You Can Buy Every Hair Salon's Most Expensive Hair-Repairing Secret For Just $28
by Dana Baardsen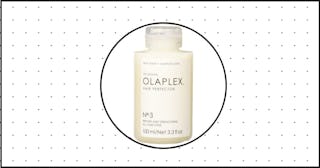 FOR THAT FRESH-OUT-THE-SALON FEEL
Is your hair dyed, dried, and not in the best shape? One great way to help heal extremely damager hair, or even prevent postpartum shedding, is to do yourself a favor and get your hair in top-notch condition. Let's be honest, it's no easy feat with a screaming baby who's latched onto your nipple 90 percent of the time.
Enter: Olaplex. It's God's greatest gift to the hair cuticle. It can repair damaged strands in just one use and works on all hair types. Typically a treatment offered at a high cost from any regular salon, it's now available for at-home use via Amazon. You'll probably have to get on the list to order it since the inventory keeps fluctuating as it keeps going in and out of stock.
You can also snag some Olaplex shampoo and conditioner while you're at it. These are both in stock and ready to ship!
RELATED: These Products Prevent Postpartum Shedding And Make Hair So Much Stronger
Our mom experts only recommend picks they really love. We may earn a commission on purchases made through links from our site, but if we love it, we know you'll love it. And we Scary Mommies gotta stick together.
This article was originally published on