How St. Baldrick's Is Working To Beat Childhood Cancer
by Karen Johnson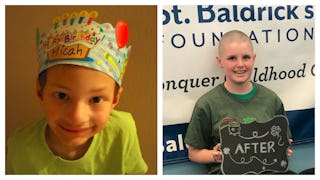 Photo credit: St. Baldrick's Foundation / Maggie Regan
September means a lot of things—temps begin to drop, orange and black have replaced bright summer colors on store shelves, and the kids are back in school. It's a month of new beginnings as the seasons change, football season kicks off, and former kindergarteners are now first graders.
But September is also a month of importance—for a different reason—if you're a kid like Micah Bernstein, a 7-year-old boy from Carlsbad, CA. That's because little Micah is a warrior who has lived in and out of hospitals most of his life. He and his family hope he can finally be done fighting, but they still don't know.
So in honor of September being Childhood Cancer Awareness Month, we'd like to tell the story of Micah and St. Baldrick's.
At around 15 months old, Micah had been suffering from pneumonia and still showed signs of shallow breathing. What should have been a routine visit to the pediatrician was instead the first day of a 6-year journey for Micah, as a CT scan showed tumors in his abdomen and chest. Micah's dad Jeff tells Scary Mommy, "The oncology team suspected it was neuroblastoma. Subsequent imaging and testing confirmed that diagnosis and found it in the bones of all four limbs, as well as in his pelvis, liver, and bone marrow."
Hearing that news—those words—is a moment no parent can prepare for.
In May of 2013, after chemotherapy, surgery, radiation, and immunotherapy, Micah was declared cancer free. But in August of that same year, he tripped and hurt his leg and couldn't bear weight on it. X-rays showed a lesion on his femur. A new round of treatment began, which proved successful by October of 2013.
However, a mere five weeks later, tumors were found in Micah's pelvis. Round three.
Since 2014, Micah has shown no signs of cancer, so the future looks bright for this incredibly strong little boy.
And a major reason Jeff and Kate Bernstein's son is still here today, able to play with his friends, read his favorite books, and dream of being a doctor himself someday so that he might be able to cure cancer and help kids like him, is thanks to the St. Baldrick's Foundation—an organization started by three successful businessmen who simply wanted to do some good and give back. By shaving their heads.
The first head-shaving event was held in 2000, with a goal of shaving 17 heads and raising $17,000 to help fund the research of the Children's Oncology Group. That first year, however, the philanthropic trio raised a whopping $104,000. To date, St. Baldrick's has raised $253 million—all of which is donated directly to childhood cancer research.
One family who has participated in the annual head-shaving event is the Regan family of Rockville Centre, NY (the city where John Bender, one of St. Baldrick's founders, lives.) Every year after Rockville Centre's St. Patrick's Day parade, St. Baldrick's hosts an event with live music, kids' activities, bake sales, and of course—the biggest attraction of all—volunteers getting their heads shaved.
One year, Maggie Regan says her oldest son Ciaran came to her and said he wanted to fundraise and shave his head. Ciaran tells Scary Mommy that his best friend's brother, a boy named Will, had cancer, so he wanted to do this for him. His first year, after setting up his own fundraising page and asking friends and family to donate, Ciaran raised over $6,000. And he's participated every year since.
Maggie tells Scary Mommy that her family has been personally affected by childhood cancer twice—once when her children's friend, Will, was diagnosed with pancreatic cancer (and fortunately beat it) and also when a fellow student at her kids' school sadly succumbed to cancer in March 2018. So the Regan family knows first-hand how necessary the work of St. Baldrick's is.
Alanna Bender, wife of St. Baldrick's founder John Bender, shares with Scary Mommy that "2018 was the St. Baldrick's Foundation biggest grant cycle yet, with $19.1 million immediately granted to researchers and institutions dedicated to helping kids with cancer live long, healthy lives. Of the many life-saving treatments made possible by St. Baldrick's Foundation funding includes an FDA-approved drug for neuroblastoma and the passing of the STAR ACT by the US Government in June 2018, which will allocate 30 million in child cancer funding by the US government over the next five years."
This funding and research is important for kids like Micah, whose bodies have been ravaged by neuroblastoma. For kids like Ciaran Regan's friend, Will. And in honor of his classmate, Mary.
St. Baldrick's website explains its mission and reason for committing solely to research funding. "Many cancer organizations fund: patient support groups, transportation to treatments, places for families to stay during hospital visits, health information and education," and "programs to make patients feel and look better."
And while St. Baldrick's agrees that all of that is important, they wanted the money they raise to be focused on one thing, and one thing only—research. "If you're giving to support cancer research (specifically for kids), look closely to see how much of your donation will do that. It may be less than 5%," their website reads.
That's why so many have joined St. Baldrick's in raising money and shearing off their hair—so that research, clinical trials, and medications can save kids like Micah. His father Jeff told Scary Mommy, "After Micah's second relapse, one of his maintenance treatments also involved an immunotherapy drug, as part of a separate study supported by St. Baldrick's. That drug, Unituxin, received FDA approval as only the third pediatric cancer drug in decades while Micah was undergoing that maintenance treatment. St. Baldrick's funding helped to provide more treatment options for Micah."
And it's because of their son's successful response to these treatments that the Bernstein family is committed to St. Baldrick's efforts.
"Over five years of participating in St. Baldrick's events and having the opportunity to meet several of the staff members, we're even more secure in our decision to support their work," Jeff tells Scary Mommy.
"We know that they're committed to supporting the best pediatric cancer research underway and giving kids more treatment options," he adds. "We're lucky enough to be able to visit their office regularly, and we've learned to stop apologizing for interrupting their work because we've repeatedly been reminded by staff at all levels that having kids like Micah visit them is the best reminder of why they come to work every day. We're incredibly thankful for the role they've played in improving treatments for Micah and countless other kids."
Tim Kenny, John Bender, and Enda McDonnell had a vision in 1999 to help kids and pay it forward. And they continue to do so, participating right alongside everyone else. John's wife Alanna shares this picture of the Bender family from the 2017 event. John and son Brady shaved, while Alanna and daughters Shannon and Casey chopped their ponytails and donated them to Hair We Share, which makes wigs for medical hair loss females.
"John has shaved every year since founding St. Baldrick's, Brady has shaved 12 times, and Shannon initiated ponytail chopping to the Rockville Centre event in 2014 and has since chopped at the 2014, 2017 & 2018 events," Alanna says. "The Bender family's two teams were able to raise $142,870 in 2018 and $70,555 in 2017."
And families like the Bernsteins are on the receiving end of these efforts. Families like the Bernsteins, who have sat with their children week after week in the hospital, watching their babies lose their hair as they fight this evil beast. These parents and kids, praying for a cure, or a miracle, can find some hope and comfort in knowing that families like the Benders, Kennys, McDonnells, and Regans, among countless others, are doing their part so more kids can live out their dreams. And maybe, because of the work of St. Baldrick's, kids like Micah can grow up to give back, just as so many did for him.
This article was originally published on