Singer Has An Awesome Response To Being Body-Shamed By A Gossip Rag
by Maria Guido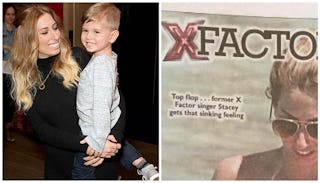 Image via Getty Images/ The Sun
Singer Stacey Solomon responds to a body-shaming article that appeared in The Sun
Stacey Solomon is our new queen. The 26-year-old singer was recently publicly shamed in a way that only a soulless gossip rag could pull off: by showing side by side photos comparing Solomon's "mom boobs" to those of her childless X-Factor contestant. Classy.
Solomon reposted the gross spread so she could get the last word.
"Top flop… former X-Factor singer Stacey gets that sinking feeling." Who writes this crap? Oh, Kim Carr. A woman. A woman wrote this shit:
X Factor stars Stacey Solomon and Louisa Johnson show it's a case of sinky pinky and perky with contrasting bikini styles. Stacey, 26, left… seemed to have trouble keeping hers on while on holiday in Ibiza. Meanwhile, last year's winner, Louisa, 18, showed how it should be done while on a break in L.A.
Huh? "How it should be done?" What does that even mean? Solomon responded with the grace that The Sun writer seemed to have misplaced somewhere. "I LOVE MY BODY @TheSun. My boobs are a result of being pregnant & breast feeding & I love them. I am just as sexy!" Hell, yes you are.
She took to Twitter to show the two reasons she celebrates her figure:
"When I saw the article, I half laughed and half wanted to shed a tear," Solomon told TODAY Parents. "I laughed, because luckily, I am very proud of who and what I am and I work hard to be happy and healthy, as ultimately, that's all that matters to me. It made me emotional because I though about all of the mothers, women, or girls out there who may read the article and feel as though they need to have perfectly perky boobs and a tiny frame to be 'getting it right,' which is just ridiculous."
It is ridiculous, and the singer is getting nothing but love and support from her fans. It's good to know that when one person does something to tear another woman down, thousands come behind her to pick her right back up.
Solomon looks fantastic, and "saggy maggies" is our new favorite phrase.
This article was originally published on