Marvel Comic Book Legend Stan Lee Dies At 95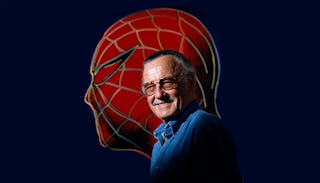 Image via Evan Hurd Photography/Getty Images
Marvel Comics writer, editor, and publisher Stan Lee has died, and creatives from Hollywood and beyond are mourning his passing and celebrating his life
Just 18 months after his wife of 69 years, Joan Lee, passed away, comic book legend Stan Lee has died. The man, whose name was synonymous with Marvel Comics, was 95 years old.
Lee was born during the depression to Jewish immigrant parents and grew up in New York City with a big imagination. He began working in the comic book industry at the early age of 17, and went on to become a writer, editor, producer, and chairman at Marvel Comics, which he developed from a small, unknown imprint to one of the dominating forces in the comic book world — a multimedia corporation worth $4 billion.
More importantly than his monetary successes, though, Lee evolved the comic book story, turning away from "perfect" superheroes like Superman, and focusing on protagonists that had flaws — and protagonists who had superpowers that both harmed and helped them as they struggled toward finding justice. Among the countless characters that he helped develop, Lee is credited with the creation of Spider-Man, the Hulk, Iron Man, Ant-Man, Thor, Doctor Strange, the Fantastic Four, Daredevil, Black Panther, and the X-Men.
Lee was rushed to Cedar's Sinai Medical Center in Los Angeles on Monday for a medical emergency and died the same day, according to CNN.
All over Twitter, artists and celebrities reacted to the news of his death with condolences, tributes, and memories of the man — from people who portrayed his characters on the silver screen, to comic book writers, to creatives who were simply comforted or inspired by his work when they were kids.
Mayor Bill de Blasio honored Lee for choosing New York City as the setting for some of his characters' stories.
Many are remembering how Lee spoke out against anti-Semitism years ago. "Bigotry and racism are among the deadliest social ills plaguing the world today… Sooner or later… we must fill our hearts with tolerance," he wrote.
Many are telling their stories of how Lee changed their lives.
And so many are speaking out about how much he will be missed.
His impact was so wide-ranging, but most of all, he will be remembered for being an all-around good human, as summed up beautifully by Chris Pine.