Stanford Study Estimates Trump Rallies Led To 30K COVID Cases and 700 Deaths
by Kristine Cannon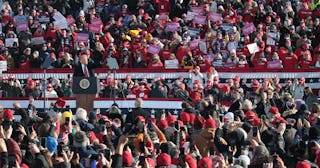 Scott Olson/Getty Images
The study examined 18 counties in Arizona, Oklahoma, and more that hosted Trump rallies this summer
The same day President Donald Trump hosted a rally in Michigan, during which he downplayed COVID-19, not only did the U.S. set a world record for new cases — reporting nearly 100,000 new COVID-19 cases — but Stanford University also published a new study that estimates that 18 of Trump's recent campaign rallies resulted in 30,000 confirmed cases and likely led to more than 700 deaths among attendees and others infected by them.
Released Friday and authored by Stanford economics professor B. Douglas Bernheim and three doctoral students, the study titled "The Effects of Large Group Meetings on the Spread of COVID-19: The Case of Trump Rallies" examined large-scale Trump rallies that took place between June 20 and Sept. 30, many of which typically drew hundreds, if not thousands of attendees.
"The CDC has advised that large in-person events, particularly in settings where participants do not wear masks or practice social distancing, pose a substantial risk of further contagion (Centers for Disease Control and Prevention, 2020). There is reason to fear that such gatherings can serve as 'superspreader events,' severely undermining efforts to control the pandemic (Dave et al., 2020). The purpose of this study is to shed light on these issues by studying the impact of election rallies held by President Donald Trump's campaign," the study states.
One of the doctoral students, Nina Buchmann, explained via Twitter that they "estimate[d] the relationship between COVID-19 in the weeks after the rally and various conditions such as pre-existing COVID-19 prevalence and pandemic-related restrictions."
In the end, the authors stated that their analysis "strongly supports the warnings and recommendations of public health officials concerning the risk of COVID-19 transmission at large group gatherings, particularly when the degree of compliance with guidelines concerning the use of masks and social distancing is low. The communities in which Trump rallies took place paid a high price in terms of disease and death."
Since recovering from COVID-19, Trump has held more than two dozen rallies, most of which were held outdoors; and, according to The Hill, he is expected to hold 14 rallies in the three days before Election Day, five of which will be held on Sunday in Michigan, Iowa, North Carolina, Georgia, and Florida. While some attendees are seen wearing masks, many — including Trump — do not.
According to a USA Today/Suffolk University poll, nearly six in 10 Americans disapprove of Trump continuing to hold large rallied amid the pandemic. The poll also found that more than 60 percent approve of Biden's decision to forgo such large events.
"Americans have the right to gather under the First Amendment to hear from the president of the United States, and we take strong precautions for our campaign events," Trump campaign spokeswoman Courtney Parella tells USA Today.
Dr. Anthony Fauci, director of the National Institute of Allergy and Infectious Diseases, recently warned against holding rallies, saying it was "asking for trouble."
"We've seen that when you have situations of congregate settings where there are a lot of people without masks, the data speak for themselves. It happens. And now is even more so a worse time to do that, because when you look at what's going on in the United States, it's really very troublesome," he told CNN.
Information about COVID-19 is rapidly changing, and Scary Mommy is committed to providing the most recent data in our coverage. With news being updated so frequently, some of the information in this story may have changed after publication. For this reason, we are encouraging readers to use online resources from local public health departments, the Centers for Disease Control, and the World Health Organization to remain as informed as possible.