'The Empire Strikes Back' Celebrates 40th Anniversary With New 'Star Wars' Action Figures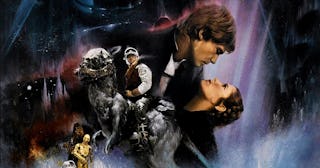 Lucasfilm
The new 'The Empire Strikes Back' action figures include everyone's favorite characters
True Star Wars fans could argue for hours about which movie is the best (It's Return of the Jedi; that's the best one), but no one can argue with the release of brand new Star Wars action figures to pay homage to one of the greats.
To mark the 40th anniversary of The Empire Strikes Back, Hasbro is releasing a bunch of new action figures from the fan-favorite film. It's like my childhood flashing before my eyes — but better — because these figures are so life-like and detailed, it's like you've been transported back to the '80s.
The images of the new action figures were displayed during Saturday's New York Toy Fair, which introduced the new Star Wars: The Black Series six-inch figures. Characters include Luke Skywalker, Princess Leia Organa, Han Solo, Lando Calrissian, R2-D2, and Yoda (the really old one, not the old one). There's also a TIE fighter pilot, rebel soldier, and AT-AT driver.
Unfortunately, we have to wait to get our hands on them (for our kids, of course) until spring, so the pics will have to tide us over until then. Each figure includes details about where each character is in the film, like Lando with his blue cape, and Han Solo and Leia in outfits for Hoth.
According to CNET, the Retro Collection is also bringing back the Hoth Ice Planet Adventure board game. The game made its first appearance in 1980 when the film was released, but this new game comes with an exclusive snow speeder action figure. The game will retail for $25 and will also be released this spring.
If you've been silently weeping over the end of the Skywalker Saga and binge-watching The Mandalorian, there may be some good news in your future. Multiple outlets have reported that a new Star Wars movie is in development with Sleight writer-director J.D. Dillard and Luke Cage. If true, Dillard would be the first black filmmaker to oversee a Star Wars project. Unfortunately, it's too early for any details on characters, release date, or much of anything, including whether it would be released in theaters or straight to Disney+.
According to StarWars.com, other toys revealed during the show include an animatronic version of the Child from The Mandalorian; an adorable plush version of the Child; a LEGO Star Wars building set of the warrior's ship, the Razor Crest; a LEGO Star Wars BrickHeadz version; and releases of some classic games, like Trouble and Operation with a Star Wars twist.
Until then, we (ahem, I mean our kids) will just have to ask very nicely for some new action figures to keep us busy until another movie drops.
This article was originally published on