Starbucks Just Released New Drinks To Help You Ring In 2018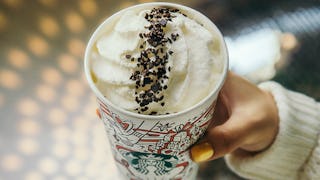 Image via Starbucks
Starbucks just launched a new collection of yummy drinks to say farewell to 2017
We're in that strange no man's land between Christmas and New Year's. No one's motivated to work, but there are dishes to be done and decorations to put away. What we need is a pick me up. Luckily, we have it, in the form of brand a new holiday drink collection from Starbucks.
If you're worried that these latest offerings will trend towards the super popular unicorn Frappuccino or Christmas tree Frappuccino, where Instagramability seemed to win out over flavor, fear not. These new drinks are a trio of black and white mocha goodness, and it appears they taste just as good as they look.
There's the Black and White Mocha, which is hot espresso, poured over dark mocha sauce and white chocolate mocha sauce combined with steamed milk. It comes with chocolate "sequins" designed to look like a black tie, giving it extra fancy points. Whip or no whip, be sure to get yourself some candy sequins.
If you're an iced coffee addict regardless of the weather, snag yourself an iced Black and White Mocha for a sweet chill. Or if you fancy yourself to be a long lost sister of Elsa, go full ice queen and order a Black and White Mocha Frappuccino.
In case you're getting a jump on that New Year's resolution to cut down on caffeine you can try a Black and White hot cocoa, which gives you the dark mocha sauce and white chocolate mocha sauce with milk but no added caffeine.
Unlike some of Starbucks other limited time offerings, the real life versions of these drinks made by actual baristas look just as yummy as the press photos.
Who doesn't want to curl up with a book and this mug?
The only black tie I need on NYE is one made of chocolate sprinkles.
The Black and White Mocha collection will be in participating Starbucks throughout the U.S. and Canada from now through the first week of January, while supplies last.
So if that new gift card you got for the holidays is burning a hole in your pocket, now you have an excuse to hit the drive through and try one of these delish and fancy drinks for yourself.