Starbucks Has Bottled Pumpkin Spice Iced Lattes, And — NO IT'S AUGUST DAMMIT
by Meredith Bland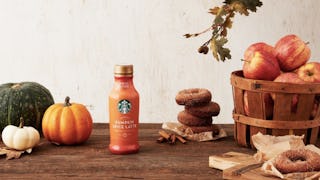 Image via Twitter
The popular drink will soon be available at grocery stores
Let's start this post with an admission: this writer has never had a Pumpkin Spice Latte. This writer loves coffee and enjoys lattes, but the idea of drinking hot pumpkin holds no appeal for her. For a large part of the country, however, Pumpkin Spice Lattes are the best thing since rain boots on dogs, and they're losing their minds over the news that Starbucks has now put their favorite drink in a bottle. In freaking August.
Sorry, it's still summer. No pumpkin drink changes that.
Yesterday, Starbucks announced that later this month bottled Pumpkin Spice Iced Lattes will be available at grocery stores nationwide. Because if you can't get enough of hot liquid pumpkin, then drinking cold liquid pumpkin might be just your thing.
As someone who doesn't get the pumpkin spice craze, the idea of coming home after a day at the beach and pouring a tall glass of cold pumpkin isn't particularly appealing, but there are plenty of people who disagree: according to Forbes, Starbucks has sold over 200 million of the drinks since they were first introduced in 2003. That, friends, is a whole mess of hot pumpkin (also, "A Whole Mess Of Hot Pumpkin" will be the name of our reality show.)
The drink even has its own Twitter account where it goes by the name "the Real PSL," appears as a cup wearing orange sunglasses, and has 108,000 followers. (The Real PSL also follows 17,000 accounts, including Captain Obvious of Hotels.com and a surprising number of local morning news anchors.)
So while we might not get it, we know there are a whole lot of people out there who are dancing the PSL dance:
And in case you thought this bottled, cold, liquid pumpkin was the end of it, guess what? You're wrong. Starbucks is also now selling Pumpkin Spice Flavored Ground Coffee (using fair trade hand-harvested Pumpkin Spice flavored coffee beans from the Pumpkin Spice tree). All of this is in addition to the already available Pumpkin Spice K-Cup Pods and, of course, VIA Instant Pumpkin Spice Lattes. Because when you're forced to drink instant coffee on your next camping trip, why not double-down and make it pumpkin-flavored? I mean, bears don't like pumpkins, right?
Oh.
Well, congratulations anyway, PSL-lovers. You go on and enjoy your drink. We're going to continue to wait patiently for It's-Socially-Acceptable-To-Order-Hot-Chocolate season because it's only August, dammit.
(h/t Buzzfeed)
This article was originally published on