Starbucks Has Color-Changing Reusable Cups And You're Going To Want Them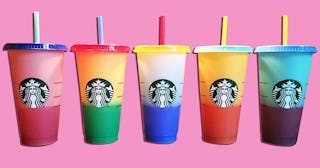 u/SlippingStar via Reddit
They're eco-friendly AND adorable — yes, you want these
Starbucks just continues to rack up the W's when it comes to their cup selection. After the massive success of their reusable holiday cups a few months ago, they're back with another reusable cup. And these tumblers are a dream — they're tumblers that change color.
Pink and green and blue ombre, oh my! The eco-friendly tumblers hold up to 24 ounces of your favorite Starbucks beverage. The entire five-cup set costs $16.95, and you can totally mix and match the different styles until your heart's content.
The five color-changing options include:
Rose – changes from light pink to coral red
Citron – changes from yellow to emerald green
Sky – changes from light blue to cobalt blue
Apricot – chances from light orange to tangerine
Arctic – changes from teal to raspberry pink
They're perfect for holding the iced coffee concoction of your dreams, or any beverage of your choice. Also? They're adorable and the colors are so summer-friendly, they'll put you in an instant good mood. These tumblers are basically begging to be Instagrammed (it's true).
If you're planning on snatching up a set of these beauts, head to your local Starbucks ASAP because after the way the holiday cups flew off the shelves, who knows how long supplies will last with these colorful cups.
https://www.instagram.com/p/Bw5i588Bt-C/
The cups were just launched this week in all U.S. and Canada Starbucks locations. The color-changing part is triggered by temperature, which means once you pour in your favorite icy drink you get to watch the delightful ombre hues pop before your very eyes.
https://www.instagram.com/p/Bw7dODag8OX/
Starbucks fans on social media are warning cup-wanters to call ahead to local Starbucks stores to see if they're still in stock. Though if they're this popular, hopefully they'll keep up with supply and demand!
After all, they've just released their summer frappucino drink menu and summer just wouldn't be complete without the color-changing tumblers to go with. The Mocha Cookie Crumble Frappuccinos, Caramel Ribbon Crunch Frappuccinos and S'mores Frappuccinos would look awfully nice in these cool cups.
May the odds be ever in your coffee and cute cup-loving favor when you go to buy this adorable set of cups.
This article was originally published on