Starbucks Pledges To Hire 10,000 Refugees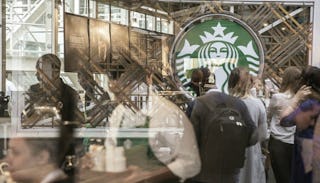 Via GIANLUIGI GUERCIA / Stringer
"We are in business to inspire and nurture the human spirit"
If you're a decent person who spent any time reading the news over the weekend, you probably had a rough few days. Donald Trump signed executive orders that banned people from certain Muslim countries from entering the U.S. — and that included visa and green card holders and refugees on their way here from war-torn countries like Syria. Some were turned away at airports in other countries, and others actually arrived to the U.S. just to be detained at airports. It was absolutely heartbreaking to watch.
But through it all, there were uplifting moments. There were the lawyers who worked for free on airport floors to release those who were detained.
There was the taxi drivers' union on New York City that ceased pickups and drop offs at JFK International Airport in protest. And today, there's Starbucks' announcement that, over the next five years, the company will hire 10,000 refugees worldwide.
Starbucks' Chairman and CEO, Howard Schultz, sent a memo to employees responding to Trump's orders, and outlining the company's plan to hire refugees, beginning with those who have worked with U.S. troops as interpreters and support personnel.
Starbucks is far from the only corporation to denounce Trump's Muslim ban. Google and Twitter both publicly stated their opposition to the ban, and General Electric CEO Jeff Immelt wrote in a memo to employees that GE employs people in the countries named in the ban, and that he shares his employees' "concern."
But Schultz' memo went a step further: It also stated the company's support for the Deferred Action for Childhood Arrivals program, or DACA, which offers support to undocumented immigrants who were brought to the U.S. as children, helping them enroll in colleges, apply for jobs and get drivers licenses. The program stems from an executive order signed by President Barack Obama in 2012.
As Schultz wrote, Starbucks is "ready to help and support our Mexican customers, partners and their families."
He continued, "We are living in an unprecedented time, one in which we are witness to the conscience of our country, and the promise of the American dream, being called into question. These uncertain times call for different measures and communication tools than we have used in the past. We are in business to inspire and nurture the human spirit, one person, one cup and one neighborhood at a time. That will not change. You have my word on that."