There's A Secret Starbucks Drink With Pink Cold Foam
by Christina Marfice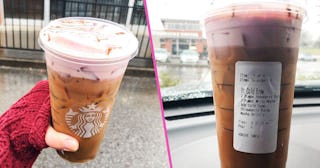 Meredith King/Instagram
Customers report that this pretty Starbucks secret menu drink tastes like chocolate-covered strawberries, so do with that what you will
There are a lot of different ways to celebrate Valentine's Day, but this year, you're going to want to make sure your celebration includes a stop at Starbucks.
Whether you have a sweetie and romantic dinner plans, or you're flying solo this year, our favorite coffee siren is providing the most perfectly Instagrammable treat for V-day, and you're going to want to get your hands on one, stat.
It's not an official Starbucks drink — it's from the secret menu, so you'll have to learn the recipe yourself so you can relay it to your barista. But just look at this gorgeous, pastel pink tinged masterpiece and try to tell me you're not going to put in that extra effort to get your hands on one of these drinks before the end of February the 14th.
https://www.instagram.com/p/B8cLz2tHF88/?utm_source=ig_embed
The drink is spreading like wildfire on social media, and food blogger Meredith King is being credited with inventing it (for the record, she tells Scary Mommy she didn't — she just saw it on social and came up with her own recipe to create a tasty drink with that adorable pink top).
https://www.instagram.com/p/B8erKNwH6iu/?utm_source=ig_embed
We may never know exactly where this Starbuck secret menu masterpiece originated, but here's how King says you should order if you want to get one for yourself:
Order a venti cold brew.
Add two pumps each of raspberry and white mocha.
Ask for cold foam made with strawberry puree.
Have it topped with either chocolate curls or a mocha drizzle, depending on your preference (and the fact that not all Starbucks locations have chocolate curls available).
Give your barista a nice tip (or at least an enthusiastic thank you) for taking all the steps involved in creating this masterpiece.
Snap a photo for Instagram, because if you don't share it on social, did your pink Valentine's Day drink even exist?
While this drink is obviously the perfect aesthetic for V-day, you could technically order it any time, so don't stress if you can't fit a Starbucks stop into your plans today. But considering those who have tried it report that it tastes just like chocolate-covered strawberries, we definitely recommend making time to order and try out this drink as soon as possible.