Starbucks' New 'Witch's Brew' Frappuccino Is A Cauldron Of Halloween Fun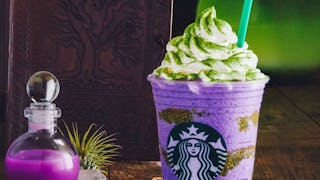 Image via Starbucks
Hop on your broom and head to your nearest Starbucks, because you need this new Halloween drink
Continuing one of our very favorite holiday traditions, Starbucks just added a festive new treat to its menu right in time for Halloween: the Witch's Brew Frappuccino.
A shimmery purple drink mixed with a swirl of green "bat warts" (AKA chia seeds) and topped off with "lizard scales" powder on top of its tower of whipped cream, this treat truly does look like something a witch would brew up. It's festive and perfect for the season and, we're sorry, what did you say? We're a little busy typing our orders into the Starbucks app.
"Starbucks loves to celebrate Halloween, and each year our Frappuccino brings something different to the season," said Jennica Robinson, a member of the coffee chain's beverage development team. "We started with Frappula, which was inspired by an old-school horror movie. Zombie Frappuccino was like the walking dead, a little ghastly. Witch's Brew is very fun, vibrant, bubbly, the life of the party."
It comes on the heels of the Franken Frappuccino in 2014, the Frappula Frappuccino in 2015 and 2016, and last year's Zombie Frappuccino. The chain has also made waves on social media with its special release unicorn and mermaid Fraps. It may just be a genius marketing ploy, but it's working — Halloween season just isn't in full swing until we have an all-too-Instagrammable, spooky-themed blended beverage in hand. And this year's is already making a splash on social media, because of course it is.
https://www.instagram.com/p/BpVmi0sgPXq/?tagged=witchsbrewfrappuccino
https://www.instagram.com/p/BpXBWQiHCs-/?tagged=witchsbrewfrappuccino
https://www.instagram.com/p/BpXES9alm1d/?tagged=witchsbrewfrappuccino
According to the Starbucks corporate site, it's an orange creme Frappuccino base that's been dyed purple, and taste testers put it somewhere between an orange push pop and Fruity Pebbles. Obviously that only makes us want it more, because both of those things are delicious. And sure, a grande-size comes with a whopping 53 grams of sugar, but if you can't overindulge with sweet treats on Halloween, when can you?
Witch's Brew Fraps are now available at Starbucks locations in the U.S., Canada, Mexico and the Caribbean, so if you live in those places, you can get yours now. Better get your broomstick (or vacuum cleaner, we see you, Mary Sanderson) over there quick, because if the themed Frappuccinos of our past have taught us anything, it's that these tasty treats are gonna sell out fast.
This article was originally published on