Statue Of Liberty Climber: 'I Went As High As I Could'
by Thea Glassman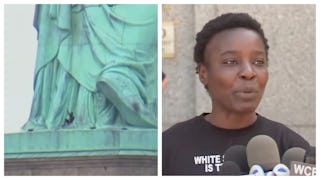 Image via Youtube/Cbs/Abcy7ny
A woman climbed the Statue of Liberty for a powerful reason
On the 4th of July, a lot of Americans spent their day grilling, lounging, and watching the fireworks. Therese Patricia Okoumou decided to climb the Statue of Liberty. The activist, who is a member of the action group Rise and Resist, wanted to protest Trump's immigration policy – and she did it all while scaling Lady Liberty herself.
Okoumou, a naturalized citizen who immigrated from the Republic of Congo, told reporters that she planned to stay on the base of the structure until ICE released the immigrant children who were separated from their families. She also had a pretty powerful reason for why she chose the Statue of Liberty as her climbing grounds.
"Michelle Obama — our beloved First Lady that I care so much about — said, 'When they go low, we go high,' and I went as high as I could."
According to court papers, there was a three hour standoff between Okoumou and police officers. It took 16 officers, a harness, and a rope to get her down from the base where she was perched, holding a shirt that read: "Trumpcare Makes Me Sick." Jamie Bauer, a fellow member, of Rise and Resist told The Daily News that Okoumou managed to scale the statue with just "sneakers and her hands."
The activist was eventually arrested and pleaded not guilty to charges of trespassing and disorderly conduct. U.S. Attorney Geoffrey S. Berman called her show of activism a "dangerous stunt."
"While we must and do respect the rights of the people to peaceable protest, that right does not extend to breaking the law in ways that put others at risk," he said.
Meanwhile, a big chunk of the internet celebrated her courage, strength, and conviction. They posted pictures of Okoumou sitting defiantly at the base of the statue — and it's pretty incredible and moving sight to see.
Hopefully, we can all climb to Michelle Obama levels high when fighting against Trump's cruel immigration policies.
"It is depressing, it is outrageous," Okoumou told reporters. "I can say a lot of things about this monster, but I will stop at this: his draconian zero-tolerance policy on immigration has to go. In a democracy, we do not put children in cages. Period."