Staying Sober During The Coronavirus Pandemic Is Challenging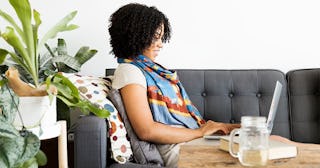 Sarah Pflug/Burst
Terrifying pandemics have a way of flooding social media feeds with memes and jokes about surviving the stress with copious amounts of alcohol. The coronavirus is spreading and folks are stocking up on toilet paper and booze. I get it—well not the toilet paper part. Vats of margaritas to survive homeschooling your kids or having your spouse as a coworker is an easy and relatable joke. But for many, that joke will kill us.
I am an alcoholic and sobriety has become a habit built out of routine and boxes I check each day to make sure I am taking care of myself and my recovery. We are far from routine life right now, and many sober folks (including myself) are struggling. If sobriety is hard for you, a person who practices safe(ish) social drinking, imagine how hard it is for the addicts who are fighting the need to self-medicate. Stress, isolation, and anxiety trigger other emotions tied to the reasons (excuses) we drank or drugged to numb ourselves.
The shit storm that is motivating folks to continue to make cheap must-have-alcohol-to-survive-jokes exists for us as well. Except the shit storm is always there for addicts; the pandemic just increased the intensity. Our go-to places are gone, and with them, our community and social support systems. We are being tempted by dangerous, self-sabotaging thoughts and behaviors. But everything we have been through has prepared us for this. We have survived hard times and we will survive still. Taking care of ourselves will have to look different than we are used to, yet we are smart enough to know what we can't change and courageous enough to change the things we can. (Says a rigid, change hating, struggles with spontaneity, and flexibility avoidant person who is white-knuckling every day.)
Here are the things that I, and many of my sober friends, are doing to stay the course during this shipwreck.
Connect With A Virtual Community
Each week, often multiple times a week, addicts get together, say our names and state that we are addicts. We do this as an act of accountability and solidarity. Support without shame is what we need to stay sober. Johann Hari's book called Chasing the Scream examines the need for and importance of community; Hari calls community the opposite of addiction. During this time of social distancing and isolation, we are putting ourselves at risk for relapse if we don't take proactive steps to maintain the social networks that keep us safe.
AA offers online meetings using Zoom. Meetings are offered daily, at various times, and for folks in different stages of recovery. Narcotics Anonymous offers web, phone, and virtual meetings too. There are several apps that are helpful as well. As a response to COVID-19 and the reduction of in-person support, the Addiction Policy Forum partnered with CHESS Health to create a free app that supports folks in recovery. The Connections App offers "prosocial engagement with others in recovery, connections to their care team, digital cognitive behavioral therapy (CBT), and other engaging and helpful features."
Lean on Facebook groups, Skype, or FaceTime to stay connected. Our community is still here.
Move A Muscle, Change A Thought
Exercise is one of the most important pieces of my recovery. It reduces stress, helps me sleep better, and improves my mood. And it takes the place of drinking. Instead of drinking, I go for a run. If I feel like I am going to crawl out of my skin, I power through a workout. If I need to reset, I sweat. The benefits of movement do not rely strictly on intensity. A walk, gentle yoga session, or time spent in the garden are all great ways to move. Getting in a good workout feels hard right now, and we miss our buds at the gym, studio, or CrossFit box. Thankfully, the physical spaces I go to clear my head through movement are available online. The Phoenix, a group for folks in recovery, uses CrossFit, boxing, hiking, biking, and yoga to connect addicts to each other and our own bodies, is offering free virtual classes.
If you don't have equipment at home, there are plenty of exercises you can do with your own body weight.
Pick Up The Phone
Call your sponsor or your sponsee and make a plan for check-ins. Call your therapist. Call friends who support your sobriety. Talk to other addicts who may be struggling. Feeling less alone and also being able to offer support is a wonderful gift of service that also adds to the foundation of sobriety. National hotlines are available too. The Substance Abuse and Mental Health Services Administration offers 24/7, 365 days of the year confidential and free services in Spanish and English. 1-800-662-HELP (4357).
Set Boundaries
Stuck in a house with others may feel impossible. The kids are home. Your housemate or spouse is home. You are all out of whack and it's going to show at times. Boundaries are always a necessary part of your recovery, but reinstating them or establishing new ones during this time is crucial to recovery success. My kids are a huge trigger for me. While they are not to blame for my alcoholism, my drinking peaked during the time I was a stay-at-home-parent. The old feelings of loneliness, boredom, and stress are surfacing with new layers of emotions connected to social distancing. I am clear with my kids and my ex-partner that I need certain guarantees in my day if I am going to stay healthy and enjoyable to be around.
It's okay for you to do the same. Our moods, patience, and sobriety depend on our ability to communicate what we need and then making a plan to get it. It's okay to say you need an hour for a meeting or a workout. It's okay to say you need to call a friend or mediate. It's okay to take care of yourself.
I am trying to approach the coronavirus epidemic the same way I do my sobriety: One day at a time. There are too many unknowns to make plans beyond today, but I can plan what I need to do each day to fall asleep at night knowing I made it without a drink. And if day by day feels too big, take it hour by hour, minute by minute, and breath by breath.
We got this.
This article was originally published on