Awesome STEM Toy Gift Ideas For Kids Of All Ages
by Annie Reneau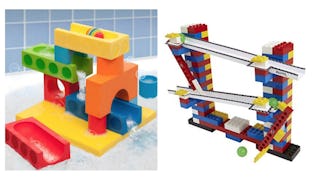 Amazon
We live in a world where technology shapes practically everything we do. It's wild to think that the kids of today will see inventions in their lifetime that we've never even dreamed could be possible.
It's even wilder to think that some of our kids will be the ones creating them! What better way to prepare them for that future than with a gift that encourages STEM-type thinking.
Check out these awesome options for science, technology, engineering, and math gifts for kids of all ages:
The best way for kids to learn science is to do science! Kids can build waterfalls by rearranging these foam blocks — which stick together like magnets when wet — then use their powers of prediction and observation to see what happens. An Oppenheim Gold Award winner.
Let's face it: Lots of math "games" still feel like schoolwork. But these bricks are a fun hands-on way for kids to visualize math concepts as they complete problem-solving challenges. Great for the younger kids on your list.
LEGO is always a winner, as we all know. With this kit, kids can create their own Rube Goldberg-style chain reactions. So fun!
If you have a kid who's into electronics, check out this kit. Your child can create all kinds of cool, working electronics without you having to worry about them burning the house down or electrocuting themselves. Win-win!
The name of this kit sounds very academic, but check out what you can make with it. My 8-year-old is going to love it. And this gift also gives back! Bayer and toy retailer HearthSong have launched a STEM toy drive to benefit children in need.
(Bonus: Now through December 11, 2017, when consumers purchase a STEM toy at HearthSong.com, Bayer will donate the full merchandise value of that toy to the Marine Toys for Tots Foundation, up to $250,000. Toys for Tots will use the dollars to purchase STEM toys from HearthSong at a discount for girls and boys of all ages.)
Remember how excited we all were when the GoldieBlox Kickstarter started kicking around? Now it's a legit company! This set is like Tinker Toys, only cooler, with a storybook, figurines, pegboards, wheel hubs and ends, blocks, joints, couplers, axles, pegs, washers, spacers, and more.
Kids can build their own mini roller coaster with this kit. At only 6 inches when assembled, this model is teeny-tiny, but what it lacks in size, it makes up for in awesomeness. With marbles dipping and turning around the coaster's twists and turns, it isn't just fun to build, it's fun to watch too.
Design and build wacky creations with these one-of-a-kind building pieces. Kids can put their engineering skills to the test making a catapult, zip line, trampoline, and more.
LEGO 3-in-1 kits are popular for a reason. Not only does this kit give kids various options for building, but it also helps them get more creative with other LEGO bricks they might have, as they see different ways to put them together. Great, not-too-expensive gift for a kid you're not sure what to get.
A game that kids can play by themselves! The Laser Maze requires kids to use strategic thinking and spatial awareness to figure out how to bounce a laser off mirrors to make a target light up. Simple enough for young ages, but challenging enough for older kids to enjoy.
These tiny robots may not look like much at first, but they make for hours and hours of learning fun. Kids start by coding with colored markers to tell the robots what to do, then move up to more complex coding. An awesome, scalable toy that even adults can enjoy.
Happy discovering!
Editors may receive samples and/or a share from purchases made via links on this page. All opinions are our own.
This article was originally published on