Steph And Riley Curry's Elaborate Father-Daughter Handshake Steals The Show During Game
by Madison Vanderberg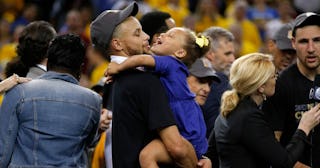 MediaNews Group/Bay Area News via Getty Images
Steph Curry and his daughter show off their adorable, and elaborate, handshake during the Golden State versus Mavericks basketball game
This is a real hot take, but here goes. Steph Curry is only popular because of his extremely adorable and charismatic daughter Riley. We're just kidding, obviously, Stephen Curry is a basketball wunderkind, but we'd be lying if we said that 7-year-old Riley's antics weren't the major reason we pay attention to the baller and his adorable family. Once upon a time, Riley used to sit on her dad's lap during his post-game interviews and totally take over and now she's stealing the show during the game with her elaborate daddy-daughter handshake routine.
During the Golden State Warriors vs. Dallas Mavericks game on December 28, 2019, Steph — who isn't playing at the moment as he's nursing a broken hand — waltzed over to his family mid-game and dazzled the crowd with the cutest and most elaborate father-daughter handshake ever.
Cue the collective "Awwws." We love how the handshake ends with a little face clasp and a kiss.
Also, a broken hand, really? That handshake showed some serious skill.
The cute daddy-daughter duo once showed off their secret handshake in 2018, but Riley was only five then and clearly, their handshake game was just warming up. A precursor for the big show.
Not surprisingly, Twitter loved the new and improved handshake during the game on Saturday night and was just as enamored as we are.
https://twitter.com/jetpack/status/1211150400922894336https://twitter.com/jetpack/status/1211274388110290944
The best comment award goes to the guy who wrote, "that was baby yoda levels of cute." Hard agree.
Steph, his wife Ayesha, and their three kids Riley, Ryan, and Canon, are one of our favorite Hollywood broods to follow online.
Remember that time Steph and his two daughters belted out "You'll Be Back" from Hamilton while driving around their neighborhood?
Add these adorable family outings to the fact that Steph Curry added a girls' collection to his Under Armour shoe line after a 9-year-old girl wrote to him asking why he didn't make shoes in her size, and Steph just shot above John Legend and Ryan Reynolds in the favorite famous dads rankings.
Shoutout to this good dad!
This article was originally published on