Mom Fulfills Friend's Dying Wish By Taking In Her 6 Kids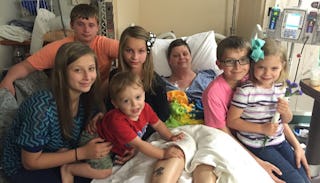 Via GoFundMe
Mom of three takes in six kids after her friend loses battle to cancer
Virginia mom of three Stephanie Culley is reminding the world what true friendship is after taking in her dying friend's six children.
Culley's childhood best friend Beth Laitkep died of breast cancer in May. The women became friends when they were teenagers and working at Wal-Mart together. Laitkep moved back to Virginia, and the ladies began rekindling their long friendship. Laitkep had fought cancer before, but this time it had spread to her spine and brain, Today reported.
As she struggled to fight the disease, her kids became close with Stephanie and the whole Culley family, which includes three children. "I was over there all the time," Culley shared, "and I took my children down there with me. We all got really close." With her children's' fathers not in the picture, Laitkep asked her friend if she'd be willing to take on a tremendous responsibility – taking care of her six children if she passed away.
Culley said she tried to remain positive when her friend would ask about her. "I would try to laugh it off," she said. "I said, 'We're going to get you well, you're going to live, we're going to raise our grandbabies together." Eventually the question of who would take care of Will, 15; Selena, 14; Jaxson, 11; Dallas, 10; Lily, 5; and Ace, 2 became more serious. Her friend asked her, "Can you do this? I know you will do this, but can you do nine kids?"
So Culley sat down with her husband and kids to talk about if the family could handle growing to 11 people. "My children were screaming 'Yes!' at the tops of their lungs. They got to have their best friends become their brothers and sisters," she said. Any parent knows that taking care of one child requires a lot of time and energy, but that taking care of nine will be a tremendous, ongoing process. But Laitkep didn't want her children to be split apart and for Culley, honoring her friend's wishes was incredibly important.
The Virginia mom says she's changed as a person because of the experience. "I don't sweat the small stuff anymore," Culley shared. "Snotty noses, disastrous house, laundry as tall as the ceiling? Beth would give anything for that right now, and I have that." She hopes their story will inspire others in similar situations to open their hearts to children who need them. "They might be wondering if they could take two children," she explained. "They might see me and think, 'If she could have nine, I could take two.'"
The family is waiting until later to talk about adoption. Culley said, "That decision will be made down the road when the children are ready." This week the Culleys were granted permanent custody of Laitkep's children. "The kids, my husband and I are extremely relieved for this to be over. Now we can move on with the rest of our lives and work at finding our 'normal,' if that is even possible with a family this large."
A GoFundMe page has been set up for the six children. People from all over the world have raised more than $65,000 for the family.
This article was originally published on