Stephen Curry's Mom Is Not Here For Her Son's Celebratory Cursing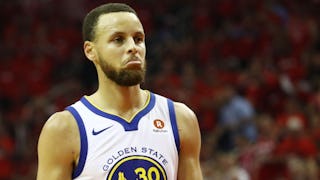 Image via Ronald Martinez/Getty Images
Stephen Curry's mom scolded her son for cursing during a game
While her son might be famous and rich, Stephan Curry isn't too old for a lecture from his mom about why he shouldn't curse.
It was during the third quarter of Game 3 of the Western Conference finals when Curry was overcome with emotion and shouted, "This is my fucking house!" Despite his amazing abilities on the court, his mom let him know that cursing (especially on national television) isn't cool.
If you don't watch this particular sports ball in your house, let me catch you up. Curry is a phenomenal basketball player, but he's had knee and ankle injuries that have prevented him from playing as much this season. He missed Golden State's first six games of the postseason. And in the first two games of the conference, he scored a lot less than normal. That brings us to Game three, third quarter, when Curry was killing it. As he scored 18 points that quarter his emotions got the best of him and he cursed a bit. As this happens to me several times daily, I can't judge. My mom sure can and does, though, which is exactly what Sonya Curry did. Moms are gonna mom after all.
"I blacked out," Curry told ESPN when they asked about his bad language. He also let the world know that his mom was already on top of it. "She already sent me two home videos, showing me the clip and playing it back," he explained. "She was telling me how I need to wash my mouth out, saying to wash it out with soap. It's a message I've heard before." And because Curry is a good son, he took the time to let reporters know that mom is always right. "She's right," he explained. "I gotta do better. I can't talk like that."
The internet loved the outburst and Curry's mom scolding him for it.
Curry also explained how hyped-up emotions can help him play the game. "A lot of it was just [me] talking to myself, almost like you've got to be your biggest fan sometimes," he shared. "I mean, obviously, it felt good, and you want to use that energy to show your teammates that you're here, you're with them, get the crowd into it. But it's one game, and you've got to have that same type of energy and intentions and focus the next game and the right approach."
Curry scored 35 points overall in the game and his team won with a score of 126-85. No word yet on if Mrs. Curry is setting up a swear jar before the next game.
This article was originally published on