Here Are Stickers For Pregnant Women, Because Growing A Human Deserves A Reward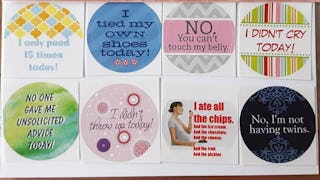 Image via Peanut Parade/ Etsy
Pregnant? Just had a baby? You deserve a sticker
No matter how excited you are to have a baby, pregnancy can be tough. Whether it's morning sickness, a baby crushing your bladder or strangers trying to touch your belly, sometimes getting though the day takes the effort of a superhero. But other than giving in to that craving for nachos with peanut butter (what? they're delicious), there really isn't a way to get the props you deserve.
Andrea Powers, a teacher and designer behind the Etsy shop Peanut Parade, understands the struggle. Powers is the mastermind behind award sticker for adults, and this time she's back with brand new designs to help pregnant women proudly declare to the world that, hell yes, I deserve a sticker for growing a human today.
Pat yourself on the back for polishing off the pantry (it's part of nesting), or ward off anyone who tries to make the forever unfunny "You're so big you must be expecting twins" joke.
The back of the stickers come with your very own pregnancy pass to flash at anyone who tries to give you shit about your diet, appearance or mood.
Since your newborn can't speak to give you a performance review, here's a set of stickers for new moms, so you always know you're rocking this parenting thing.
Sneezing without having to change your pants afterwards is definitely something to celebrate.
There's even a set for dads, because they deserve stickers too.
Both being pregnant and parenting a new baby are super hard jobs. So treat yourself to some stickers — you've earned it.