All These Cute Stocking Stuffers Are Under $15
by Team Scary Mommy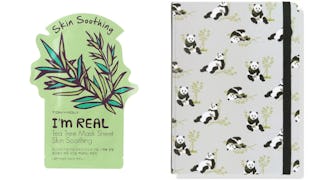 Image via Walmart
You definitely don't have the break the bank for Christmas this year
Christmas is just around the corner and your bank account is already getting a wee bit anxious. Never fear because this year is going to be different, damnit. We tracked down some of the cutest stocking stuffers and they're ALL under $15. Can you hear your wallet breathing a large sigh of relief? Mine too.
Who wouldn't want their room to smell like they just went apple picking? Give this to one of your family members and we can all pretend that it's a warm fall day.
Santa will be delivering all of the TLC to one lucky family member this year. This tea tree sheet mask will soothe the skin, help with uneven texture, and deliver plenty of bliss. You should probably buy an extra one of these for your own stocking.
This flamingo bottle opener can go straight into the stocking of your favorite lush. Let the good times roll.
Why yes, your kid can and should get super cozy with this budget-friendly, mermaid fleece. You'll only be a tad bit jealous that you don't have your own.
There has to be a least one Potter-head in your family. Treat them to this little guy who is super cute and will bring plenty of magic to any locker or bedroom mantle.
Snag these little pigs for the family member who always wants to watch videos on their phone (even though the computer is right there).
The biggest coffee fiend in your family deserves to brew their very own delicious drink in the privacy of their own home. Goodbye freezing morning trips to Starbucks and all the long, long lines.
Your family's most avid reader won't have to worry about bent pages anymore. Also, it's always important to remember to eat a cupcake.
The sportiest person in the fam deserves to have a cool armband to store their phone in while they're going hard at the gym. Big, big bonus points: it's sweat proof.
It always helps to write it all out. Especially inside a journal that's covered in adorable pandas.
I mean, if this doesn't cheer a dad up every morning while he drinks his coffee, I don't know what will. Thanks, Santa.
Here's to a Christmas filled with fun, cute, budget-friendly gifts. Your wallet will be forever grateful.
We are a participant in the Walmart.com Affiliate Program and may earn fees by linking to Walmart.com and affiliated sites.
This article was originally published on