Parkland Students Surrounded By Love And Support On Their First Day Back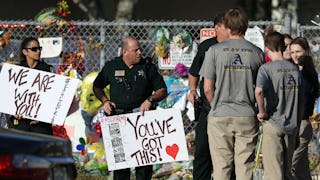 Image via Joe Raedle/Getty
Stoneman Douglas Students returned to school today.
It's been a little over two weeks since a gunman stormed Stoneman Douglas High School and took the lives of 17 people. Now, students are returning to classes for the first time since the tragedy — and the public response has been heartbreakingly touching. Everyone from complete strangers on the internet to local Florida police officers have stepped up to offer words of encouragement, support, and love.
It must be difficult as all hell for Stoneman Douglas students to step back into their classrooms today. But, thankfully, they weren't alone. Dozens of police officers lined up outside the campus as high schoolers filed into class. Alumni gathered together, holding up signs of encouragement. Rod Skirvin, vice president of the Police Benevolent Association in Broward, handed out 1,000 carnations to students.
"It's something gentle, something refreshing. You can't frown at a flower," he told Sun-Sentinel.
Student Bradley Golub, 14, said, "I'm a little nervous but we have to get back so we can get some sense of normalcy. We're just going to try to support each other."
MSD Principal Thompson tweeted out messages of support and encouragement. Students returned for only a half-day of school, and were told that they wouldn't be in for their regularly scheduled classes. "Looking forward to tomorrow Eagles!" Thompson's Twitter account announced. "Remember our focus is on emotional readiness and comfort not curriculum: so there is no need for backpacks. Come ready to start the healing process and #RECLAIMTHENEST."
Meanwhile, pretty much the entire Twitterverse rallied together to send lots of love to the students — and many, many reminders that they're not alone today. A high school in Somerville, Massachusetts even came together and devoted 17 minutes of silence to honor those lost in the shooting. It was all a beautiful, necessary reminder that the world is still a kind, giving place.
https://twitter.com/jetpack/status/968867291885547520https://twitter.com/jetpack/status/968625317563822080
Oh yeah, and a rainbow sprang up over Stoneman Douglas High School earlier this week when teachers reported for the first time, which is all kinds of poetic.
The survivors took to Twitter to thank everyone for the outpouring of support — and shared their own emotions about returning back to school. Many reminded the public that their crusade for gun control is going to continue to march on, and a-freaking-men to that.
Sending lots of love, support, and encouragement to the students, teachers, and parents of Stoneman Douglas High School. We're all thinking about you.
This article was originally published on