Behold The Maskless Idiots Mourning The Loss Of The Worst President Ever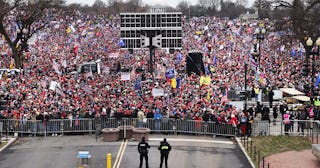 Spencer Platt/Getty
President Donald Trump is still refusing to concede the 2020 election, and his supporters showed up in droves without masks to protest
Because Donald Trump is the most pathetic, entitled man baby on earth, he still refuses to concede the results of the 2020 presidential election despite the fact that Joe Biden is the President-elect and won the election by a million miles. In response to Trump's ongoing tantrum over the results, his rabid supporters are now gathering in Washington, D.C. to protest the ratification of Joe Biden's electoral college victory.
The "Stop the Steal" protest started with a bunch of rallies yesterday outside the Capitol building. Trump himself is supposed to speak to his giant echo chamber of people who don't like to be told "no" or acknowledge anything even slightly resembling reality because to do so is simply too inconvenient, apparently.
And, of course, absolutely no one in attendance is wearing a mask.
Predictably, things got a little wild during the rallies yesterday, and not just because the crowd was amped up. No, things took a decidedly unhinged turn when all the "guest speakers" that were found who knows where and are relevant for who knows what reason went on anti-science rampages.
Take this guy, Clay Clark, for instance. Clark is apparently a right-wing podcast host and also a lover of plagues. He loves them so much, in fact, that he urged everyone in attendance to turn the rally into a "superspreader event." Clark isn't very smart, clearly, because if he was he'd know it already was such an event.
"Turn to the person next to you and give them a hug, someone you don't know," Clark told the maskless, droplet-spraying crowd of rabid reality-deniers. "Go hug somebody. Go ahead and spread it out, mass spreader. It's a mass-spreader event! It's a mass-spreader event! It's a mass-spreader event!"
Other Stop The Steal stars included anti-Semites going on and on about George Soros, coronavirus tinfoil hat twats, the weird MyPillow guy who thinks people were "stuffing the ballots" (whatever that means), and other people who have completely jumped the ship on being normal who, ironically, screamed "victory or death" into each other's faces.
They're not wrong — there is no Trump victory, but their irresponsible and malevolent attendance at this mass gathering very well could lead to death for many, so, yeah. They're so close to understanding things. So very close.
Two weeks from President-elect Joe Biden's inauguration and there's nothing Trump and his ilk can do to overturn the very valid results. Trump's campaign hasn't produced any evidence of fraud, and multiple courts have rejected Trump's baseless claims of a "stolen election."
Absolute power is not patriotism (it's actually treasonous), but sure, go off, maskless idiots. Go off. Wonder how many of them will show up to an overwhelmed hospital within the next two weeks demanding treatment as a result of all of this?