Why I Stopped Caring About Inducing Labor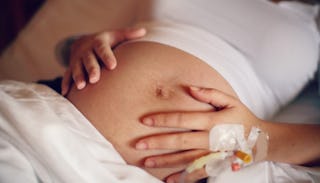 ciseren / iStock
My oldest son was in no hurry to arrive in this world. My body was primed and ready to go, but my baby was not. It was so primed, in fact, that my OB assured me ("And I never say this…") that "there is no way this guy is going to be late." But his due date came and went. No baby. Not even a false alarm. Just a very pregnant me.
My husband and I took a birthing class while I was pregnant with my son. They helpfully prepared us for the pain of labor by making us hold an ice cube. (For those of you who have not experienced the gift of childbirth, that is so not like labor.) Like all of my fellow would-be moms, I decided that I wanted to have a "natural" labor. No drugs. No nothing except breathing and the knowledge that this too shall pass.
So keeping it natural, I tried to urge on nature by employing every old wives' tale ever uttered about inducing labor. I took hilly 3-mile walks every day. I downward dogged and cat-cowed. I tried eating chicken parm and eggplant parm, since I knew one of them was supposed to work but I couldn't remember which. I put hot sauce on everything. I drank raspberry leaf tea constantly. Nada.
By now I was a week into my 12-week maternity leave (you know, since there was no way this guy was going to be late). And while I understood that he was warm and cozy floating around in my cayenne-spiced womb, it would be a little embarrassing if I returned from maternity leave still pregnant. So I reluctantly scheduled an induction date, for 10 days past his due date, just in case. I still assumed that he would come on his own before then.
But then it was the day before induction, and still nothing. In a last-ditch effort, I went to see an acupuncturist. As she was loading me up with needles, she asked me, "Why do you want to avoid induction so badly?" I told her that I wanted to have a "natural" birth, avoid drugs, experience everything as it was meant to be. She looked at me and said, "Whatever happens, this will be your birth experience."
That statement really resonated with me. I was so in the mindset of doing things "right" that I had lost sight of what really mattered. This was going to be one of the most important days of my and my husband's lives. We were going to bring a child into this world, to become parents. I shouldn't ruin the experience of that by shortsightedly focusing on my perceived failings. If Pitocin needed to be part of this day, so be it.
My first (and my two subsequent children for that matter) did end up having to be forcibly evicted. My husband and I worked out a code phrase for if I wanted the epidural: "I'm serious damn it!" The labor ended up being so fast that I didn't have time for the epidural. But if I had needed it, that would have been fine too.
Because when I look back to that day, I don't think about how I needed medical help to get things jump-started. I think about the shock of it—to suddenly have one other person in the room who had not been there before, and in that moment to no longer be a couple but a family.
I think about how he announced his entry into the world with a loud cry and a massive gush of pee that hit everyone in sight. I think about how he looked both exactly and nothing like what I had imagined. I think about how impossibly small he was, despite looming so big in my mind. I think about how immensely relieved I was: that I had done it, that he was here, that he was alive and healthy, that I could finally see him.
It was my experience, my new family's experience. And it was perfect.
This article was originally published on