101 Inspiring Quotes About Strength
by Team Scary Mommy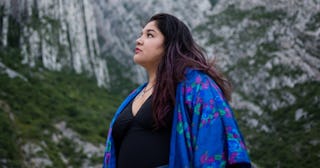 Alejandra de la Fuente/ Getty
Exhibiting strength is not just about the physical. It's about your emotional and mental state, how you overcome your fears, and just how often you pick yourself up and try again. 'Cause, let's be real, life can be tough — it's going to knock you down from time to time. And in those moments when you feel the weakest, you might not even know where to turn. A great place to start? Words of encouragement from those who've summoned their own strength at tough times exactly like the one you're going through right now.
RELATED: 100 Quotes That'll Give You Some Much-Needed Perspective About Change
Phyllis Christine Cast, an American romance and fantasy author, once said, "Give me strength, not to be better than my enemies, but to defeat my greatest enemy, the doubts within myself. Give me strength for a straight back and clear eyes, so when life fades, as the setting sun, my spirit may come to you without shame." The Merrian dictionary defines strength as "the capacity for exertion or endurance" or "the power to resist force." Like many of the quotes below, Cast talks about the core spirit and finding seeking your power from within. She reminds us that unwavering strength doesn't come from others but from the potential inside of you.
So if you're feeling defeated and need a little inspiration, these 101 sayings and famous quotes about strength will help you get over the hurdle.
RELATED: 100+ "I Don't Care" Quotes For When You Can't Even Deal Anymore
Short Strength Quotes
"Power's not given to you. You have to take it." — Beyoncé
"You've got to stay strong to be strong in tough times." — Tilman J. Fertitta
"Building up your weaknesses until they become your strong points." — Knute Rockne
"Where there is no struggle, there is no strength." — Oprah
"I like criticism. It makes you strong." — LeBron James
"We acquire the strength we have overcome." — Ralph Waldo Emerson
"A single twig breaks, but the bundle of twigs is strong." — Tecumseh
"True strength is delicate." — Louise Berliawsky Nevelson
"Joy is strength." — Mother Teresa
"You feel your strength in the experience of pain." — Jim Morrison
"Have a strong mind and a soft heart." — Anthony J. D'Angelo
"A chain is no stronger than its weakest link." — Sir Leslie Stephen
"Better to be strong than to be pretty and useless." — Lilith Saintcrow
"What makes you different or weird, that's your strength." — Meryl Streep
"The undertaking of a new action brings new strength." — Richard L. Evans
"I like feeling strong. It keeps my mental floor higher." — Pink
"We are only as strong as we are united, as weak as we are divided." — J. K. Rowling
"Tough times never last, but tough people do." — Robert H. Schuller
"Don't push your weaknesses, play with your strengths." — Jennifer Lopez
"The burden is equal to the horse's strength." — The Talmud
"Fall seven times, stand up eight." — Japanese proverb
Quotes About Strength and Courage
"I love the man that can smile in trouble, that can gather strength from distress, and grow brave by reflection. 'Tis the business of little minds to shrink, but he whose heart is firm, and whose conscience approves his conduct, will pursue his principles unto death." — Thomas Paine
"Promise me you'll always remember: You're braver than you believe, and stronger than you seem, and smarter than you think." — A.A. Milne
"A brave man acknowledges the strength of others." — Divergent
"Being deeply loved by someone gives you strength, while loving someone deeply gives you courage." — Lao Tzu
"The kind of beauty I want most is the hard-to-get kind that comes from within — strength, courage, dignity." — Ruby Dee
"Work hard for what you want because it won't come to you without a fight. You have to be strong and courageous and know that you can do anything you put your mind to. If somebody puts you down or criticizes you, just keep on believing in yourself and turn it into something positive." — Leah LaBelle
Quotes About Strength in Hard Times
1. "A hero is an ordinary individual who finds the strength to persevere and endure in spite of overwhelming obstacles." — Christopher Reeve
2. "Being a strong woman is very important to me. But doing it all on my own is not." — Reba McEntire 3. "Strength does not come from winning. Your struggles develop your strengths. When you go through hardships and decide not to surrender, that is strength." — Arnold Schwarzenegger 4. "Once you have been through tough times, you can only become stronger." — Alesha Dixon 5. "Build upon strengths, and weaknesses will gradually take care of themselves." — Joyce C. Lock 6. "What lies behind us and what lies before us are tiny matters compared to what lies within us." — Ralph Waldo Emerson 7. "Being strong can also be feminine. I don't think feminine equals being weak. Being strong is very sexy." — Sanaa Lathan 8. "In the depth of winter, I finally learned that within me there lay an invincible summer." — Albert Camus 9. "Anyone can hide. Facing up to things, working through them, that's what makes you strong." — Sarah Dessen 10. "To be a mother you must be strong. Even if you don't feel it, you have to pretend." — Sade Adu 12. "Some people believe holding on and hanging in there are signs of great strength. However, there are times when it takes much more strength to know when to let go and then do it." — Ann Landers 13. "A strong woman is a woman determined to do something others are determined not be done." — Marge Piercy 14. "You can be strong and true to yourself without being rude or loud." — Paula Radcliffe 15. "Strength is the ability to break a chocolate bar into four pieces with your bare hands — and then eat just one of those pieces." — Judith Viorst
16. "Anyone can give up; it is the easiest thing in the world to do. But to hold it together when everyone would expect you to fall apart, now that is true strength." — Chris Bradford
17. "It's not the absence of fear, it's overcoming it. Sometimes you've got to blast through and have faith." — Emma Watson 18. "Believe in being strong when everything seems to be going wrong. I believe that happy girls are the prettiest girls. I believe that tomorrow is another day, and I believe in miracles." — Audrey Hepburn 19. "Life only demands from you the strength you possess. Only one feat is possible — not to have run away." — Dag Hammarskjold 20. "Do not pray for an easy life, pray for the strength to endure a difficult one." — Bruce Lee 21. "You can't really be strong until you can see a funny side to things." — Ken Kesey 22. "Out of suffering have emerged the strongest souls; the most massive characters are seared with scars." — Khalil Gibran 23. "Be strong, believe in who you are; be strong, believe in what you feel." — Melissa Etheridge 24. "You have power over your mind — not outside events. Realize this, and you will find strength." — Marcus Aurelius 25. "Strong beliefs win strong men, and then make them stronger." — Richard Bach 26. "Be strong and follow your own convictions. You can't assume there is a lot of time to do what you like. This is what David Bowie is afraid of: that he will die before he gets a chance to make a real strong contribution." — Marc Bolan 27. "Be strong in body, clean in mind, lofty in ideals." — James Naismith 28. "That which does not kill us makes us stronger." — Friedrich Nietzsche 29. "He who believes is strong; he who doubts is weak. Strong convictions precede great actions." — Louisa May Alcott 30. " For what it's worth: It's never too late to be whoever you want to be. I hope you live a life you're proud of, and if you find you're not, I hope you have the strength to start over again." — F. Scott Fitzgerald 31. "Temper us in fire, and we grow stronger. When we suffer, we survive." — Cassandra Clare 32. "The world breaks everyone, and afterward, some are strong at the broken places." — Ernest Hemingway 33. "Life is very interesting. In the end, some of your greatest pains become your greatest strengths." — Drew Barrymore 34. "Be faithful in small things because it is in them that your strength lies." — Mother Teresa 35. "There are two ways of exerting one's strength: One is pushing down, the other is pulling up." — Booker T. Washington 36. "A truly strong person does not need the approval of others any more than a lion needs the approval of sheep." — Vernon Howard 37. "With the new day comes new strength and new thoughts." — Eleanor Roosevelt 38. "Strength and growth come only through continuous effort and struggle." — Napoleon Hill 39. "You never know how strong you are, until being strong is your only choice." — Bob Marley 40. "Life doesn't get easier or more forgiving, we get stronger and more resilient." — Steve Maraboli 41. "Strength does not come from physical capacity. It comes from an indomitable will." — Mahatma Gandhi 42. "When you come to the end of your rope, tie a knot, and hang on." — Franklin D. Roosevelt 43. "You've always had the power, my dear, you just had to learn it for yourself." — The Wizard of Oz 44. "The bamboo that bends is stronger than the oak that resists." — Japanese Proverb 45. "The strongest people are not those who show strength in front of us but those who win battles we know nothing about." — Unknown 46. "A true hero isn't measured by the size of his strength, but by the strength of his heart." — Hercules 47. "Let me tell you the secret that has led me to my goal. My strength lies solely in my tenacity." — Louis Pasteur 48. "And yet, anything real, anything strong, was never easy. She'd been taught from an early age that the things that mattered most were the hardest to obtain." — Nora Roberts 49. "It is good to love many things, for therein lies the true strength, and whosoever loves much performs much and can accomplish much, and what is done in love is well done." — Vincent Van Gogh 50. "Never apologize for being sensitive or emotional. Let this be a sign that you've got a big heart and aren't afraid to let others see it. Showing your emotions is a sign of strength." — Brigitte Nicole 51. "Life doesn't get easier or more forgiving, we get stronger and more resilient." — Steve Maraboli 52. "It's not always necessary to be strong, but to feel strong." — Into the Wild 53. "Nothing is so strong as gentleness. Nothing is so gentle as real strength." — Ralph W. Sockman 54. "It doesn't take a lot of strength to hang on. It takes a lot of strength to let go." — J. C. Watts 55. "When you feel like hope is gone, look inside you and be strong, and you'll finally see the truth — that a hero lies in you." — Mariah Carey 56. "The world is a great gymnasium where we come to make ourselves strong." — Swami Vivekananda 57. "It is time for parents to teach young people early on that in diversity there is beauty and there is strength." — Maya Angelou 58. "Good actions give strength to ourselves and inspire good actions in others." — Plato 59. "Few men during their lifetime come anywhere near exhausting the resources dwelling within them. There are deep wells of strength that are never used." — Richard E. Byrd 60. "Never believe for a second that you're weak. Within all of us, we have a reserve of inner hidden strength." — Victoria Addino 61. "Failure will never overtake me if my determination to succeed is strong enough." — Og Mandino 62. "Let me tell you the secret that has led me to my goal. My strength lies solely in my tenacity." — Louis Pasteur 63. "Strength is not something you have, it's something you find." — Emma Smith 64. "Those who contemplate the beauty of the earth find reserves of strength that will endure as long as life lasts." — Rachel Carson 65. "I think scars are like battle wounds — beautiful, in a way. They show what you've been through and how strong you are for coming out of it." — Demi Lovato 66. "Strengthen me by sympathizing with my strength, not my weakness." — Amos Bronson Alcott 67. "The key is this: Meet today's problems with today's strength." — Max Lucado
68. "Sometimes your disappointments make you a stronger person for the future." — Blanka Vlasic
69. "It gives me strength to have somebody to fight for; I can never fight for myself, but for others, I can kill." — Emilie Autumn 70. "Greatness lies not in being strong, but in the right use of strength." — Henry Ward Beecher 71. "Only actions give life strength; only moderation gives it charm." — Jean Paul Richter 72. "When you are required to exhibit strength, it comes." — Joseph Campbell 73. "There is a growing strength in women, but it is in the forehead, not in the forearm." — Beverly Sills 74. "My strength is the strength of ten because my heart is pure." — Lord Tennyson
This article was originally published on