Why I'm Done Waiting To Do All The Kick A** Things I Want To Do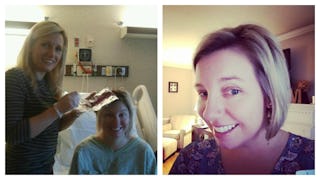 Hannah Mayer
For the twelve years I had a "real" job, I kept a running list of things I would do if I didn't have a real job. I don't know why purple hair and a nose ring seemed so alluring; I can only guess it was the appeal of the forbidden. Upon leaving corporate America in 2010, I wasted no time in knocking stuff out left and right.
The first was easy – learn how to do a back spin and perform said back spin in public whenever possible. This wasn't something that my job constraints prevented me from doing necessarily – just something I didn't have time to make a priority in my life. Having kids left me with three hours of uninterrupted nap time every day… it's like the back spin taught itself.
I even added a little '80s flare to the ending, propping my head up on my hand like, "Hey, oh you're here" once I came to a stop. Unfortunately, I had to retire the back spin when one night at my husband's work event, I took out his associate (a 50-something ICU doctor) at the ankles with my leg sweep. The last thing I want is to be a liability.
Next I put some funky highlights in my hair. I really got into this for a while. Pink, blue, purple… sometimes a streak and sometimes the whole shebang. Walking into the PTO meeting, I liked to think it conveyed, "Hey people – I'm not afraid to challenge societal norms (for 4-6 weeks until this washes out anyway)."
I also picked up the banjo. "Why banjo?" everyone asks. BECAUSE YOU NEVER KNOW WHEN IT MAY COME IN HANDY, I say with a roll of my eyes like it's not obvious.
Sometimes I like to make videos of myself and send them to my husband at work to make sure he remembers he married up.
There've been a smattering of other things, but the most recent reason for making my Mom cry was a nose ring. This one took me a few years to gather up the courage for. For starters, I'm not a big fan of pain. Also, I feel like you have to be really REALLY super sure about making a decision that will permanently alter your face.
I'd made a few attempts to have it done in the past, but each time something foiled my plans. For instance, once my friend Jamie and I drove to a piercing shop in the Quad Cities where a man chased us around the parking lot and tried to wave us in by enthusiastically flailing his arms. We drove away to think about whether we wanted to go in or not and immediately ran over a possum. It was clearly not the night to be making major life decisions regarding my face.
A couple of weeks ago, my friend texted me and asked if I would go with her to get a piercing and I knew it was time. We gathered our other friend who wanted to get a tattoo and pulled up in front of the shop in my minivan like the midlife crisis cliché that we were.
It was understood I would go first, due to the fact that after a few seconds of signing non-liability documents and browsing stud colors I had to sit down with my head between my knees to avoid fainting. I learned I was a fainter when I got my tattoo. After a few minutes the room went dark and I heard the tattoo artist assuring me he thought he could fix the mistake he made when I went down.
The good news is that I didn't faint, though I did tap into my colorful vocabulary once or twice.
I will say it's taken a little getting used to. Like yesterday when I was at spinning I forgot it was there and wiped my face with a towel. It snagged, I yelped, and would have fallen off my bike had it not been for my clip-in shoes. The instructor thought I was offering some sort of battle cry of encouragement to the class and whooped back in my direction. I'm not going back for a while.
What's next? Everything else. I turn 42 this year and never have been more aware of how fast life is moving. Living each day to its fullest and doing things I want to do, even if they terrify me, is at the forefront of my mind every single morning.
"Look at her," I want my kids to say at my funeral. "She really wasn't afraid to take a leap."
"Yeah, she really was brave," they'll say. "Once she got past the fainting spells."
This article was originally published on