Student Creates Haunting Photos Using Trump's Quotes About Women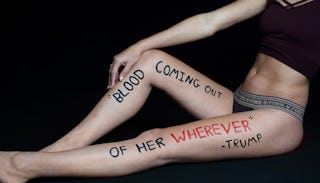 Image via Aria Watson.
College student created the photo series featuring President-elect Donald Trump's comments on women
While most of us cringed hearing the hateful comments President-elect Donald Trump made about women, one college student was motivated to create a stunning work of art. Aria Watson created a moving photo series, titled #SignedByTrump, featuring his dangerous rhetoric and images that are risqué enough to be considered not safe for work.
"I started creating #SignedByTrump a few weeks before the election. However, once the election happened and I saw that Donald Trump had won, I knew I had to work harder on this project and spread my message," she told Scary Mommy. The 18-year-old is a student at Clatsop Community College in Oregon. The series of pictures were for her final project in her Introduction to Photography class, but they could easily be hung in any major gallery.
"Like many other Americans, at first I thought the campaign was a joke. I couldn't believe he was running for president! I don't think anyone knew he was going to win," the teen explained. "I for sure didn't." Her work begs the question, "why are we not seeing more art with a political focus?" Especially after such a jarring election.
"I was, and still am, completely shocked at the fact that Hillary Clinton didn't win," Watson said. She's not the only one in utter shock that someone so irresponsible and inexperienced would be our new president. Watson said the results of the election inspired her artwork. "In previous elections, I was too young to understand politics, and I think to an extent I still am too young to understand," she said. "This year, I was 17 and understood more than I ever have. Although I was two weeks too young to vote, I did my best to keep up with the election and learn as much as I could."
"As a proud feminist, hearing Trump say 'grab them by the pussy' and talk about how he could do anything he wanted made me absolutely sick. Women are not objects," Watson shared. "The fact that he has said this, and other things like this, but still won scares me. I'm afraid that words, and even actions, like this will become a social norm."
The student first posted her photo series on Facebook and Instagram, but many of the images were removed. Showing the female form in all its glory isn't something the social media giant supports, but spreading fake news that causes people to act out violently is totally cool.
But when Watson posted her photos on Tumblr, no one removed them, and they quickly went viral. Her post currently has 102,805 notes and its reach is growing by the hour. "All I wanted from these photos was to help people realize who Donald Trump really is, and I just want to feel heard," the teen explained. "I know most people are set on their opinions about Trump, but I just hope one person sees #SignedByTrump and it opens their eyes."
The college student didn't expect her project to reach so many people, but she's happy that it's gone viral. "While I have obviously received some negative feedback, I have received so much support through messages, comments, and shares. Even though I've gotten some negative responses, all the positive support is outweighing it," the teen said. "I never would have thought that my project would have such a strong impact on so many people. Over the past few days, I have gotten messages that have brought me to tears."
"I decided to keep everyone's face out of the photos and keep them anonymous for two main reasons. For one, anonymity in art can be powerful, people can picture whoever they want on those bodies," Watson explained. "The second reason is that these girls are not just models to me. They are friends, family, and one is even a self-portrait. I know how harsh people can be when they are behind a screen. I did not want any of those girls to have to deal with that."
Since the project launched online Watson has partnered with The Outrage to release her images on postcards, shirts, sweatshirts, and other assorted items. The best part is that 15% of the profits go to the ACLU in Donald Trump's name. A similar effort has resulted in 82,000 donations to Planned Parenthood in Mike Pence's name.
"I don't know why Donald Trump is in office, or how this even happened, but he is. What we need more than ever is to come together," Watson said. "To everyone who has supported me and #SignedByTrump don't let anyone silence you. Don't be afraid to speak up about what you are passionate about."
This article was originally published on