This Student Adidas Commercial Is Making The Entire Internet Cry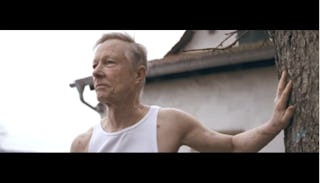 A mock Adidas ad done by a German student is emotional and brilliant
A student created an emotional commercial that the internet cannot get enough of. It captures a quintessential part of the human experience: aging.
In the spec Adidas spot entitled, "Break Free," German student Eugen Merher gives us a story about a man in a retirement home who is a former marathon runner. The elderly gentleman stares longingly and sadly into space, presumably thinking about his more fulfilling and active days pre-retirement.
The whole commercial was inspired by a very personal and emotional connection to the director's life. A distant 80-year-old relative of Merher's tragically passed away last year. "He was really young at heart," Merher tells Scary Mommy. "He inspired me to have a man that breaks free from inner restrictions, dementia, and from a retirement home — and run one last time."
The ad begins with the man staring out of the window while other residents are gathered around a television. He sees a man running outside and from then on, he can't seem to get it out of his head.
The camera then cuts to a shot of the man's old Adidas running shoes – in all of their worn in (and slightly dirty) glory.
We follow the man's desire to run — to break free from the constraints of the retirement home. He appears singularly driven to do the one thing he loves.
Again and again he is stopped from his quest to run. Just when you think your heart can't take any more of his defeat, a nurse tosses his sneakers into a locker, seemingly for good.
Then his friend wheels in through his door on a wheelchair with a surprise on his lap. He's holding the sneakers. Eventually, he slams through the doors and throws his hands up in the air as he descends for a glorious run down the hill and off into the horizon.
As for whether or not Adidas will use the brilliant ad? "We tried sending it to [Adidas'] communications department but they didn't really react," Merher told the Huffington Post. They may just be regretting that now.
Either way, the ad has gone viral and Merher thinks he has an idea as to why so many people are connecting with it around the world.
"Everyone, everywhere, is young at heart. No matter what age, or what you look like, this part of yourself never dies. It can always be activated."
This article was originally published on