Research Shows Most Americans Are Giving Babies Solid Food Too Early
by Julie Scagell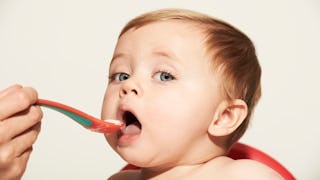 Image via Getty/Plume Creative
As many as two-thirds of caregivers introduce "complimentary food" too early, study says
A new study supports the World Health Organization recommendation that children should not be introduced to "complementary foods," meaning food or drink other than breast milk or formula before six months of age.
The World Health Organization has long recommended that children under six months of age should not receive complimentary food. But this most recent study gives more depth to the recommendation, stating that babies who receive food too early can miss out on key nutrition they would receive if given breast milk or formula exclusively.
"Introducing babies to complementary foods too early can cause them to miss out on important nutrients that come from breast milk and infant formula," researcher Chloe M. Barrera, who works for the Centers for Disease Control and Prevention said. "Conversely, introducing them to complementary foods too late has been associated with micronutrient deficiencies, allergies, and poorer diets later in life."
The rationale from this study and other experts is that breast milk and formula contain condensed, specific nutrients babies need in their first six months, which is a critical time in their development. Giving babies an option to eat other food may lessen the chance they are getting the vital nutrients they need from breast milk or formula alone.
The study's results are based on data from the National Health and Nutrition Examination Survey (NHANES). Researchers assessed the food intake of 1482 children aged six to 36 months, based on household interviews asking when their child was first fed anything other than breast milk or formula. This includes juice, cow's milk, baby food, solids, and even water.
Their results showed that only one-third of babies in the U.S. were introduced to complementary foods at the recommended time of about six months and about two-thirds have introduced food other than breast milk or formula at some point before then.
Because the data relied primarily on self-reporting, researchers feel it's possible there are more than two-thirds of parents who have given their child "complimentary food" before the recommended time.
The study also suggested strategies may be needed to support caregivers to ensure they follow the infant feeding guidelines. The U.S. Department of Agriculture (USDA) and Department of Health and Human Services (HHS) are currently developing federal dietary guidelines for children under two years, which will be released in 2020.
"Efforts to support caregivers, families, and healthcare providers may be needed to ensure that U.S. children are achieving recommendations on the timing of food introduction," Barrera noted. "Inclusion of children under two in the 2020-2025 Dietary Guidelines for Americans may promote consistent messaging of when children should be introduced to complementary foods."
This article was originally published on