Study Finds Reopening Colleges Likely Led To Rise In New COVID Cases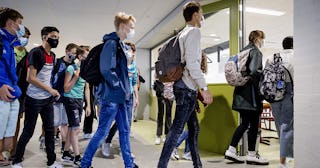 ROBIN VAN LONKHUIJSEN/ANP/AFP/Getty
The study traced thousands of cases a day from students attending in-person classes
A new study found colleges and universities that reopened for face-to-face instruction may have caused thousands of new coronavirus cases per day as a result of its decision.
Researchers at the University of North Carolina at Greensboro, Indiana University, the University of Washington, and Davidson College found an extra 3,200 cases (or 2.4 cases per 100,000 residents a day) were linked to colleges and universities that opened in-person, a vast difference to those who held classes online, the Wall Street Journal reported.
The study, which will be posted later today on the preprint server for health service medRxiv, found the biggest surge in cases came in areas near schools with in-person instruction. Researchers used cellphone GPS data to track people's movements, including students and faculty, and came up with the infection rates before and after they came on campus from mid-July to mid-September.
"The finding that colleges drawing students from higher-risk areas experienced a larger increase in cases is critical for planning mitigation strategies in colleges," Sen Pei, an infectious-disease modeler and associate research scientist at the Columbia University Mailman School of Public Health, said of the study. He was not one of the researchers on this study.
Researchers looked at colleges that took extensive safety protocols and also ones that had limited protocols like social distancing and mandatory mask requirements in place. Per the CDC, the highest risk higher education locations are considered ones where "full-sized in-person classes, activities, and events. Students are not spaced apart, share classroom materials or supplies, and mix between classes and activities."
Ana Bento, an assistant professor of infectious diseases at Indiana University and co-author of the study, added, "We're not saying it was a terrible mistake to open. Just that the influx of individuals, which was much greater where there is face-to-face [instruction], is correlated with a larger increase in cases."
The study, which hasn't been peer reviewed but is going through Journal of the American Medical Association review currently, is being published now because that process could take months, and as higher education institutions look to spring and summer schedules, they felt it was important to get the information out there. This includes many universities' decisions to cancel spring breaks and have students home for longer periods during winter break.
"We thought the public health implications were very important," said Martin Andersen, an assistant professor of economics at UNC Greensboro and a co-author. While unsurprising, adhering to CDC guidelines like "faculty and students engage in virtual-only learning options, activities, and events," which is the lowest risk and "small in-person classes, activities, and events" where "individuals remain spaced at least six feet apart and do not share objects," should be considered based on study results.
Information about COVID-19 is rapidly changing, and Scary Mommy is committed to providing the most recent data in our coverage. With news being updated so frequently, some of the information in this story may have changed after publication. For this reason, we are encouraging readers to use online resources from local public health departments, the Centers for Disease Control, and the World Health Organization to remain as informed as possible.