1 In 3 Parents Read Texts Behind The Wheel -- Even With Kids In The Car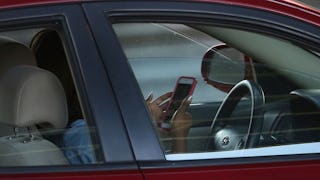 Image via Spencer Platt/Getty Images
One in three parents read texts behind the wheel
When we think about distracted drivers, we might picture teens who don't know any better, or irresponsible young people with no concern for their own safety. But a new study published this month in The Journal of Pediatrics has tough news for parents: we're a big part of the distracted driving problem, and our kids are paying for it.
Conducted by Penn Nursing and The Children's Hospital of Philadelphia (CHOP), with additional funding by the National Science Foundation (NSF) Center for Child Injury Prevention Studies, the distracted driving study found that just over half of parents talked on their cell phone while driving, even when they had kids in the car between the ages of 4 and 10. One out of three parents read texts while on the road, over a quarter of them sent texts, and one out of seven engaged in social media on a mobile device.
The study also found that using a cell phone while driving with kids in the car was correlated with other risky driving behavior, including driving under the influence of alcohol and driving without a seat belt (both with kids in the car and not). However, even some parents who didn't display other risky driving behaviors did text or talk while driving.
"Engaging with a cellphone inherently takes our attention away from the roadway," Catherine McDonald, a senior fellow at the Children's Hospital of Philadelphia who co-authored the study, told the Chicago Tribune. "As technology rapidly changes and accelerates, we need to intervene."
The study sampled 760 drivers from 47 states who had children between the ages of 4 and 10, and who regularly transported their child or children in a car.
This information sheds important light on the distracted driving epidemic that has affected the country over the past four years as more and more drivers obtain smartphones — and more and more drivers become addicted to texting and social media. According to the National Traffic Highway Safety Administration (NTHSA), distracted driving was responsible for taking 3,450 lives in 2016 alone and caused injuries in 391,000 people. At any point during the day, an estimated 481,000 drivers are using cell phones while driving.
While young people are the demographic most likely to text and drive, this new study shows that parents of all ages are still contributing to the problem, even when their loved ones are in the car, too.
While the solution to stopping cell phone use while driving involves public education, law enforcement, and changes in our culture, there are a few things that parents can do to help themselves drive as safely as possible. The National Safety Council recommends downloading an app that prevents cell phone use while driving, placing your phone on silent/do not disturb, and putting your phone out of reach in a console or glovebox where you can't see or hear notifications.
You can also sign a pledge to not drive while distracted, and share it with your family, including your kids.
This article was originally published on