Study Finds Majority Of Parents Don't Plan To Vaccinate Kids Right Away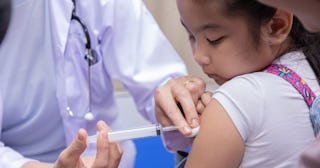 Zyn Chakrapong/Shutterstock
A new study found that vaccine hesitancy among parents of young children is high
Amid expectations that health experts will soon give the green light for kids between the ages of 5 and 11 to receive Pfizer's COVID-19 vaccine, it seems plenty of parents are hesitant about actually getting their kids vaccinated when they're able to do so.
A new study released by the Kaiser Family Foundation found that parents of children in the 5 to 11 age bracket have concerns about the long-term safety of the COVID vaccine, including two-thirds of parents who expressed concerns about how the vaccine may affect their child's future fertility.
The nonprofit organization shared the information as part of its KFF COVID-19 Vaccine Monitor, an ongoing research project that aims to track public attitudes and experiences with COVID-19 vaccinations using a combination of surveys and qualitative research. Twenty-seven percent of parents of 5-11 year-olds are eager to get a vaccine for their younger child as soon as it's authorized, while a third say they will wait a while to see how the vaccine is working. About three in ten parents say they will definitely not get the vaccine for their 12-17 year-old (31 percent) or their 5-11 year-old (30 percent).
While 53 percent of parents noted concern over the possibility of school-wide vaccine mandates, the greatest concerns among lower-income parents include accessibility and cost. Fifty-one percent of those parents said they're concerned about missing work to deal with children's vaccinations, with 38 percent worried about having difficulty traveling to a vaccination site. Forty-five percent are concerned about having to pay out-of-pocket to get their child vaccinated and 48 percent are worried about not being able to get the vaccine from a trusted place.
Though Pfizer recently announced that its COVID-19 vaccine was shown to be highly safe and effective for kids in clinical trials, the announcement seems track with vaccination trends among American adults, which the organization notes has slowed in recent weeks. And while case numbers continue to decline nationwide, the pandemic remains far from over.
Of course, it's worth pointing out some limitations to this data — namely that it's possible parents were not yet aware of the safety information released by Pfizer's clinical trials, and that other similar studies have shown strong support among parents for vaccinations and mandates. Still, it's understandable — especially given the rampant amount of mis- and disinformation floating around on social media — why parents of young kids might be concerned. Lack of equitable access is a widespread problem among healthcare in the U.S., but the COVID-19 vaccines being free should help alleviate at least some of the financial burden faced by parents amid the ongoing pandemic.
This article was originally published on