A Depressing Number Of People Still Find Public Breastfeeding 'Inappropriate'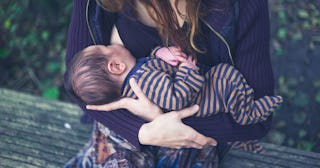 lolostock/Getty
A new survey about public nursing and pumping makes us angry, even if it's not surprising
Here's some depressing news when it comes to equality, understanding, sexism, the patriarchy, and the progress of society: a shocking number of Americans don't think women should breastfeed in public, have a private place to pump at work, or have any sort of reasonable or easy way to feed their baby as nature intended.
The news comes from the makers of Aeroflow Breast Pumps, who surveyed 1,000 households last month in order to find out more about the public's opinion of breastfeeding and pumping.
Let's take a closer look at the numbers.
One in four people in the United States think it's inappropriate to breastfeed or pump in public and 61 percent of people don't think moms should openly nurse in public — you know, that totally natural thing that breasts were made for, and that humans have been doing for all of recorded time.
Over sixty percent of people don't think women should be able to nurse in a restaurant (I guess while everyone else eats, baby doesn't get to).
At the same time, 25 percent of people don't think businesses should have to provide private lactation rooms for moms (so… where do they want us to pump?) and 35 percent of people don't think unconventional workplaces, like construction sites, should have to provide a place to nurse.
When it comes to what men think, things get even worse. A disappointing 45 percent of men don't think employers should have to provide a lactation room (compared to 23 percent of women), and 21 percent don't think women should get time off to pump (compared to nine percent of women), which just really speaks to them not understanding what it's like to nurse at best and blatant sexism at worst.
Although: more women than men think that women shouldn't be allowed to breastfeed in clear view of the public (we guess the urge to see tits overwhelms their disgust at women having freedom and rights).
"It's discouraging that new moms still do not have the broad support from both men and women in this country to breastfeed in a public setting," Jennifer Jordan, Aeroflow Healthcare Director of Mom and Baby, stated in a press release. "These attitudes make it challenging for women to confidently return to work, run errands or visit a restaurant without the fear or anxiety of being shamed."
Yep, that's to put it lightly. It's sexist and immature and dumb not to let mothers feed their babies in public however they see fit. Not to mention that public breastfeeding is specifically legal in every state, and lactation rooms are required for many employers. Not to mention that feeding your baby breastmilk, through nursing or pumping, comes with lots of great health benefits for mom and baby.
Yet these archaic and ignorant opinions linger, even to the point where moms have been kicked out of public swimming pools for nursing and two-thirds of moms who filed pumping-related discrimination suits against their employers lost their jobs.
"We hope this study raises awareness of the pressure and discomfort new moms endure when trying to feed their babies in public and causes the population to develop an appreciation and sensitivity towards these women," said Jordan. "Being a mom is not easy and being surrounded by critics certainly does not help."