PSA: We're Still In A Raging Pandemic, So Choose Wisely
by Diana Park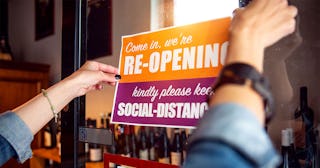 LeoPatrizi/Getty
I want to have a party in the worst way. You know, the kind where you invite all your family and best friends and there's lots of great food and you linger and talk and drink and play games?
I miss those days.
I also miss my girls' nights. I'd have a gathering every few months or so and there'd be a theme. Once I had a vibrator party. That was such a hit, I had a jewelry party. Then, there was the time a bunch of old friends got together, rented a room at the local movie theater and had a buffet dinner.
While watching a Hallmark movie the other evening, there was a scene where everyone was dressed up and there were tiny hors d'oeuvres being passed around. You know, just an open plate with everyone grabbing food with their hands. Then, in the next scene, the main character and her sister were at a bakery trying free samples. I really miss free samples. And buffets. And potlucks.
But I realize my missing these things isn't a reason to start them up again. Sure, stuff in my state is opening again. You can now go to a restaurant and eat. Non-essential stores are open. You can go get a pedicure and a massage.
However, with infections and deaths at their peak — my state is seeing the highest COVID numbers ever- – it's so important to hunker down and stay in.
Instead of going to dine in, you can get take out, curbside pick up, or get gift certificates to support those local businesses.
I've had times (just like everyone else) when I've really struggled through this. But almost all the people I know who decided to gather for the holidays either ended up with COVID, or had to get tested because a family member they were with got it. A good friend of mine got together with her boyfriend, mother, father, and grandmother for Christmas. It wasn't a big gathering and fell into the "ten people and under gatherings" my state suggests. Her boyfriend had a runny nose, and within a few days they all — including her grandmother in her 70s —had COVID. It not only ruined her vacation because she got really sick, but she was worried about her grandmother, and of course felt horrible because she felt they were all being safe.
The thing is, this is how it's happening. This is why the numbers of COVID cases are spreading like wildfire and why so many people are dying.
I know a lot of people who made the choice to have a "just us" holiday and it was a hard decision to make. Of course we want to get together and see our family and friends, especially on special occasions. But if we can just hold off for a bit longer and make smart choices on our own, hopefully things will start to take a turn for the better and we won't have to be at risk, or put anyone else at risk, by doing some of the things we love to do.
My kiddos and I used to pick a different place every Saturday to go out to lunch. We'd go in, sit in a booth and I felt like it was the one time a week that I had their attention and we were all doing something together.
I can't wait to be able to do that again, but for now we just go somewhere and eat in the car, or I make a special lunch at home. Just because we can do this again, doesn't mean we should.
Things like strolling around Target just to get out of the house, or gathering for a picnic, or going to the movies aren't essential things and they can wait. But the health and wellbeing of so many people isn't something that can wait. It's up to us to make the right decision.
One of my friends who lives in New York City made the comment that she feels like because so many things are open now, it gives people false hope and is making a lot of her friends and family think things are safe. It's a distraction to what's really going on — just watch the news and see how many cases and deaths are reported each day if you need a reality check.
This isn't over, and it's going to be a while if we keep going on like this. Without true leadership or a cohesive plan of action from the current administration, we need to make these difficult decisions on our own. Yes, it's hard. We all know it, but isn't it worth all the lives that could be saved and for things to get back to normal?
I think we all agree the answer is yes.
Please, do the smart thing and stay hunkered down. There will be a time when we can gather again and do it up. That time isn't now — and it's going to be a lot longer if we don't take matters into our own hands.
This article was originally published on