22 Sizzling Names Perfect For Your Summer Baby
by Rita Templeton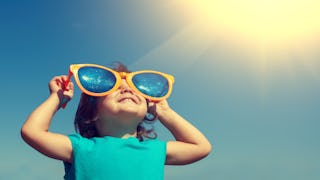 vvvita/Getty Images
Who doesn't love summertime? Hot days, long evenings, swimming pools, and barbecues; beaches, bonfires, Popsicles, and bare feet. It's the stuff June, July, and August are made of.
If you're expecting a little summer sweetheart, you may want to commemorate your baby's special season with a name that represents the sultry, carefree days when they entered the world.
In that case, you're in luck! Sure, there are plenty of obvious tributes (think Summer, Sky, Breeze, or Sandy — see a whole list of those here) — but if you want a more subtle nod, we think these are some of the coolest names for babies born in the hottest months.
This is the Finnish word for "summer," which to non-Finnish-speakers sounds just like an adorable name.
If you're splashing in a pool or an ocean in the summertime, you're likely splashing in a lake — or maybe boating on one. This is one of those names that's equally suitable for a boy or a girl.
A Greek name meaning "soft breeze," which are especially welcome on those sometimes-stifling summer days.
Leo, the lion, is the astrological sign for babies born from July 23rd to August 22nd. If your little lion is in fact a lioness, you could go with names like Leonie or Leona.
There's not a much better descriptor for the hot summer sun on most days, so it makes a fitting tribute for a baby born when the blazing sun makes the pavement look like it's shimmering.
Summer is baseball season — and Fielder will surely appeal to any fan, seeing as it's the name of a variety of baseball positions. Or you could choose the name of your favorite team's playing field, like Shea (Stadium) or Camden (Yards) or Turner (Field).
A Latin name meaning "of the sea," so this is perfect for a beach-going baby.
The expression "dog days of summer" doesn't have anything to do with literal dogs — it actually comes from the dog star, Sirius, which rises just before the sun in July and August. (As a bonus, Sirius means "burning," like your feet on the pavement at the pool.)
This name may be derived from the Greek word theros, meaning "summer." If the a-ending makes it too cutesy for your liking, you could always shorten it to the respectable Tess.
A Latin name meaning "happy and carefree," which is the total embodiment of that wild, running-through-the-sprinkler summer spirit.
Clear conditions and warm breezes mean that summertime is ideal to get that boat out on the water, so Sailor makes sense.
A northern summer constellation, Lyra can be seen almost directly overhead, bright in the night sky, during June. It's best known for its brightest star, Vega.
This name means "town by the sea," and if you think that sounds like an ideal spot for a summer vacation, you're absolutely right.
Summer is synonymous with camping, whether going to camp or just pitching a tent out in the wilderness somewhere. You could spell it Camp, of course, but the K-beginning makes it look more like a name, since Kamp is an actual surname.
A vibrant flower that blooms in the summer, the dahlia is not only beautiful, but hardy — great traits to share with a baby girl of the same name. Other summer-blooming flower name possibilities are Daisy, Zinnia, Lavender, and the unisex Sage.
The birthstone of July babies, the ruby is said to represent passion, vitality, and good fortune. If you've got a June baby, there's the option of Pearl; and for August babies, there's Peridot.
Summertime is prime fishing time, and Fisher is a great way to pay homage to the anglers in the family.
Literally just the name of one of the hottest months of the summer — but it boasts the adorable nickname Auggie. There are, of course, also June and July.
In Baltic mythology, Saulė was the name of the Lithuanian sun goddess. She was said to ride through the skies in a copper chariot, pulled by horses who never tired.
A Hawaiian name meaning "sea," this one has a definite tropical vibe. Though it's predominantly used as a boy's name, there's nothing wrong with naming a little girl Kai, or you could go with Kaia. Or Kailani, which means "sea and sky."
If you live in the United States, you know that our nation's birthday is celebrated on July 4th — so Liberty is a perfect summer name, associated with all things 'Merica.
The summer solstice is the longest day of the year, when the sun reaches its highest point in the sky.
Everybody loves summertime, and having a summer baby just adds to its sunny splendor. Celebrate your kid with a name that's just as warm, fun, and vibrant as the season.
No matter what season your baby arrives, you can find the perfect name — plus fun and inspirational lists — in the Scary Mommy baby name database!
This article was originally published on