10 Summer Beauty Must-Haves
by Sa'iyda Shabazz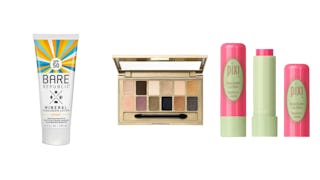 target.com
Target is one of the best big box stores in the game, and you can fight me on that. This is a hill I'm willing to die on. In the last few years, Target has really made themselves a standout in the beauty game as well, creating a great mix of premium and discount beauty products. There will always be room for our drugstore faves like, but then we can add companies like Boots no.7, Soap and Glory and Pacifica to our collection of favorites.
Now that it's summer, our beauty routines are reflecting the change in the weather. We're less interested in heavy creams, musky scents, and dark colors. We want light, fresh and easy beauty routines that keep us from looking sweaty and melted. A good sunscreen, a nice tinted lip balm, and a good eyeshadow palette is really all you need to keep your summer beauty routine in check. And luckily for us, Target has all of that and then some.
This list is a just a small sampling of summer beauty items available at Target.
Designed to be used on the go, this sport sunscreen has both UVA/UVB protection. It also has up to 80 minutes of waterproof protection, and it smells like coconut and vanilla. Yum!
Essie always comes through with some of the best nail polish colors in the game. The Seaglass Collection, pictured here in The World is Your Oyster, is full of lush, shimmery colors you'd find inside of a seashell.
With 12 shimmery shadows ranging from light golden to pitch black, there is something for everyone here. And you can layer the colors to take your eye look from day to night. And, it's only, like, 8 bucks? Yes please.
It's hot AF, and you don't want your makeup to melt off your face as soon as you get outside. So you need a good primer. This one by e.l.f. fights enlarged pores, minimizes fine lines, and is good for both dry and oily skin. Added bonus: there's several formulas, so you can get the perfect match for your skin type.
If you're looking for a fresh, delicious but light scent for the summer, Pacifica's hair and body mist in Tuscan Blood Orange is the one for you. With notes of strawberry and raspberry, you will smell yummy no matter how hot and gross you may feel.
Summer is hell on your hair. The sun bakes it, and the water dries it out. And we're constantly trying to get it off our faces. This coconut oil mask will breathe new life into tired summer strands.
If you're looking for the slightest hint of shimmer for those days where it's just too hot for anything else, this cream makeup is perfect. We're showing it in Chardonney Shimmer, but there are 11 different colors to choose from.
After a long day in the sun, your face feels like a million different things at once. This cucumber-based sheet mask will calm your skin, leaving it feeling refreshed and hydrated.
For those who want a little bronze before they hit the beach or the pool, Pacifica's tropical smelling bronzer lotion is the perfect solution.
In summer, you need a lip balm that will keep your lips soft, but will also add a touch of color. They instantly brighten your face up with very minimal effort. And this lip balm comes in 5 different colors, but we're loving it in Pixi Pink.
So, which products will make your summer beauty list? Race you to Target!