Make A Move In The Bright Direction With These Sunflower Coloring Pages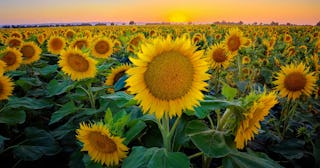 Kristina Lapinski/Getty Images
Who doesn't love sunflowers? They're probably the happiest — if not the sunniest — flower of the bunch. Seeing a giant yellow sunflower instantly makes us feel joyful, and why wouldn't it? Spotting some sunflowers is a beautiful indicator that summer has arrived, along with its lazy days, warm weather, and, of course, more time to spend in the garden. Plus, they're just so darn pretty. Do sunflowers make you feel giddy with excitement over the small joys of the season like they do us? Then you're going to absolutely adore this collection of free sunflower coloring pages that we've put together for you and your favorite little bug.
Flowers aren't just pretty to look at, either; they also play a vital role in nature's ecosystem. And if you love to cook, you probably know these flowers make for a popular ingredient in the kitchen, too. (Sunflower oil, anyone?) As you may have gathered by now, these free printables allow you to do much more than color in some dazzling drawings of sunflowers. Yes, obviously, you will be doing that. But you'll be learning as well! We've sprinkled some fun facts about these fab flowers throughout the collection. Like, did you know they're called sunflowers because they turn their blooms from east to west to follow the sun?
Nature is pretty cool, and so is coloring sunflowers. So, get out your crayons for an afternoon activity that will surely bring a smile to your face. We recommend following these bright and sunny pages with our tulip coloring pages, rose coloring pages, garden coloring pages, and summer coloring pages.
Free Printable Sunflower Coloring Pages
Sunflower Page No. 1
Sunflowers were first grown in North and South America over 5,000 years ago! But today, they are also grown in other parts of the world, including Europe and Asia.
Sunflower Page No. 2
There are over 70 species of sunflowers in the world. So, how can you tell the difference between the plants? Usually by their size and color. Although typically yellow, sunflowers are known to grow as purple and even red flowers. Yep, red! Break out your burgundy crayons and have a blast. Using sunflowers and hot water, you can even make a gorgeous burgundy dye.
Sunflower Page No. 3
Each sunflower can contain as many as 1,000 to 2,000 seeds. You can use sunflower seeds to grow the flowers, sure, but you can also use them as food for birds and humans. Roasting sunflower seeds is a tasty and healthy snack! They can also add a light crunchiness to homemade bread, or a salad. Some people even ground them up and use them as breading for fish. Speaking of seeds, those that come from the disk flowers (basically the middle of the flower) contain a sweet yellow oil, otherwise known as sunflower oil, which you can harvest for cooking, making soaps and paints, creating skincare products, and even for medicine. The process of squeezing the oil out of these seeds is known as "extraction."
Sunflower Page No. 4
Interested in growing some sunflowers of your own? Wait until late spring, once the ground is nice and warm. Perhaps your sunflower will flourish like the current Guinness World Record-holder — grown in Germany. It measured 30-feet, 1-inch tall.
Sunflower Page No. 5
Sunflowers are also reputedly good at absorbing toxins. In fact, millions were planted after the devastating Fukushima nuclear power plant accident in Japan.
Sunflower Page No. 6
"Sunflowers" is the name of a popular series of still-life paintings by the Dutch painter Vincent van Gogh. An anonymous buyer paid $39.85 million in 1987 for one of the paintings. No pressure or anything!
Sunflower Page No. 7
Have a dried sunflower and need a new bathroom scrubbing pad? No problem! Once the sunflower heads are dry, you can convert them into scrubbing pads. Efficient and eco-friendly? Yes, please.
Sunflower Page No. 8
Visiting a sunflower field is a fun family activity to do in the summer. There are over 30 sunflower fields in the U.S., spanning from New Jersey to Wisconsin to Florida.
Sunflower Page No. 9
Sunflowers aren't just giant flowers. There are also smaller clusters of sunflowers, known as dwarfs, which are great to grow in small gardens and pots.
Sunflower Page No. 10
Only young sunflowers track the sun. As sunflowers mature, their internal clocks start slowing down (hey, relatable). As a result, they stop following the sun and instead face east. We're sure that, like the rest of us, they just need a break.
Sunflower Page No. 11
Did you know sunflowers were brought to Russia by Tsar Peter the Great? He first saw them in the Netherlands. This was especially helpful during Lent. People could use sunflower oil instead of animal-based oils, which were banned during the holiday.
Click here to print all of the sunflower coloring pages at once!
This article was originally published on