People Are Sunning Their Butthole To 'Recharge' And WTAF Is Happening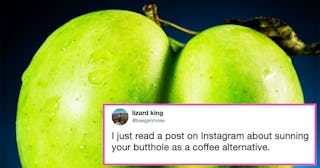 lizard king/Twitter and AlonsoAguilar/Getty
I like a good dose of vitamin D as much as anyone. Actually, living in the cold and cloudy Northeast, I probably love it a little more than most people.
In the summer months, I have more pep in my step and my moods are approximately 212% better. I don't feel like I want to hurt people for chewing loudly or walking slowly in the grocery store. (For the most part, anyway.)
So, after my doctor recommended taking Vitamin D on the daily, I was all in. Swallowing these tiny, clear pills every day has been a huge mood-booster. I tell everyone I know who has a tough time in the winter to get their Vitamin D levels checked because it has literally changed my world.
However, there's a trend that's spread and has opened up the butt-cracks of the world — literally — in hopes to get their vitamin D in another way.
Yep, you read that right. Some people seem to think they can stream light, energy, and happiness through their butthole.
https://www.instagram.com/p/B4AvlAzhO3o/
No, I'm not kidding. Also, I guess the phrase "stick it where the sun don't shine" is going to be lost on all the people who are lying down and taking some sun up the butt for 30 seconds daily.
Apparently there are humans out there who who claim 30 seconds basking your bum in the sun is more effective at energizing you than a day outside fully clothed.
What in the actual fuck is happening?!
If you've ever wanted to tan your taint, this is your chance. Maybe just put up a fence first.
People seem to be ignoring the fact that one of the butthole tanner in the viral video is Johnny Knoxville, comedian and host of the former television show Jackass. Even though this likely — okay, obviously — started as a joke, people are dropping trou and asking the sun to energize them through their stink star. Plenty of, er, jackasses are swearing by this fecal warming method leaving comments under the video like:
"Been doing this everyday this week! (if my neighbors peek over the wall they're in for a jaw dropper 😜) I get double duty as a woman with all my pink parts exposed! Love it! I feel not only energized but very connected with sun beams shooting though my core system! Thanks for the insight!!"
"Johnny Knoxville sent new here, wasn't sure if it was a joke or not…now I'm convinced you dudes actually are about that sunning the butthole life. I'm gonna follow."
"Hahahah… love it… did it a while ago. It feels AWESOMEEEE…."
However, don't be so quick to air out your crack. If you think light hitting your butthole will make you feel drunk with the power of one-thousand mothers is a bunch of shit, you're right. This is pseudoscience at its worst.
Scary Mommy talked with Dr. Sashini Seeni, a General Practitioner of Medicine with over eight years of experience who says the thing about trends like this, whether they are are a joke or not, is people will go so far to try anything new to make them feel good, it's ridiculous.
"There is no proof or evidence as such to report such nonsense," says Seeni. Seeni adds that even though Johnny Knoxville is a comedian and former host of the show Jackass, the public takes something like this seriously and tries it themselves even though it's meant to be a joke.
Don't be fooled into trying to toast your chocolate starfish with the warmth of the open rays. "Vitamin D metabolism involves a few of your body organs which are the skin, kidneys, liver and bones. Needless to say, there are no anatomical, physiological, biological or medical basis to make you toast your butthole like this," says Seeni.
Also, heads up: skin cells can "undergo dyspepsia which can increase your risk of cancer," adds Seeni. And no, your butthole isn't immune to cell abnormalities.
We'd like to think we've come far enough as a society to know better than this, but people are using cucumbers to clean their vagina so it seems we still need to check ourselves every once in a while and calm down on the so called "health" trends that are really just pseudoscience in disguise.
If you want more energy, try using a little common sense. And please, don't spread your legs and let the sun seduce your puckered fart shoot.
Just don't.
This article was originally published on