'Super Lice' Exists In 25 States - Here's Hoping Yours Isn't One Of Them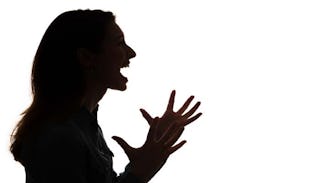 Something called "super lice" exists: strains of parasites resistant to over-the-counter treatments. The word "lice" strikes fear into the hearts of parents, everywhere. Add "super" as a descriptor and watch parents curl into a ball and cry.
Happy Back-to-school, parents!
Kyong Yoon, an assistant professor at Southern Illinois University Edwardsvillle was part of the research team that discovered the new ultra-resistant strains. "We collected 109 lice populations and 104 had high levels of gene mutations," Yoon said at the annual meeting of the American Chemical Society. Yikes.
Time reports that Yoon collected lice from every state and his research is ongoing. The 109 samples were from 30 different states and the vast majority were resistant to over-the-counter treatment.
Fantastic! Parents always need something fresh to worry about.
This new research is a great argument against the updated guidelines released by the American Academy of Pediatrics just a few months ago. Those guidelines told parents they should keep their kids in school because lice don't transmit disease and "are not easily transmitted from one head to another." Mkay.
Pediatric dermatologist Dr. Robin Gehris told Today Parents that treatments sometimes aren't as effective because parents aren't using them as directed. She reminds parents to be sure to use OTC products a second time, five to seven days after the first treatment. Eggs are harder to kill, and those survivors will hatch about a week later.
Regardless of the AAP's recommendations, it's important to be diligent when treating lice. Launder clothes and sheets, remind children in daycare not to share pillows and blankets, and don't forget about follow up treatments to kill the eggs. This news shouldn't cause mass paranoia – it's just a reminder that the little jerks are hard to kill. It should also make those of us who've dealt with lice understand why they are so damn hard to get rid of.
Here are the states where the most resistant strains of lice were found:
Alabama
Arizona
Arkansas
California
Connecticut
Florida
Georgia
Illinois
Indiana
Kansas
Kentucky
Maine
Maryland
Massachusetts
Minnesota
Missouri
North Carolina
Ohio
Rhode Island
South Carolina
Tennessee
Texas
Virginia
Washington
Wisconsin
So basically only five out of the 30 states they researched didn't have the resistant lice. And Yoon's not done testing so we may as well just assume regular old lice has super powers now.
Ask your doctor about prescription-based products if over the counter products aren't working for you. You can read the Center For Disease Control's recommended treatment here.
Related post: Parents Who've Dealt With Lice Are Giving Serious Side-Eye To New Recommendations
This article was originally published on