A 'Women-Only' Island Exists And It Looks Amazing
by Julie Scagell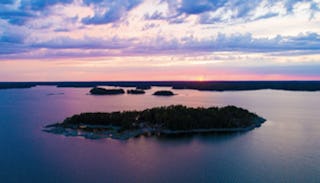 Image via SuperShe
All women, all relaxation. Sign us up
If any woman hasn't at some point in their lives thought to themselves (or screamed into their pillow at night), "If only there were a women-only island, please sign me up to live there forever and ever, amen," your prayers have just been answered — sort of.
Supershe Island, an all women experience in the Baltic Sea off the coast of Finland, has finally arrived. According to their Facebook page, Supershe is made up of "activists, athletes, artists, entrepreneurs, philanthropists, philosophers, scientists, and more," to bring women together.
https://www.instagram.com/p/BkmgkM5nwRO/?taken-by=supershesnaps
This self-described "No man's land" has a little of everything: yoga classes, facials, massage, bathing-suit-optional saunas, fine dining, and most importantly, a whole bunch of connecting with other women.
The 8.5-acre island is the brain-child of German businesswoman Kristina Roth, who bought the island two years ago to be the headquarters of her female networking society.
https://www.instagram.com/p/BkkEMIUnsfh/?taken-by=supershesnaps
"It was like a woman-only summer camp where the message was, Empowerment!" said Phoukham Kelly Bounkeua, a psychotherapist from Seattle who, according to Conde Nast, was drawn to SuperShe's message of "encouraging emotional, physical, and financial well-being amongst women."
Roth said in February she would be hosting "the world's first all-women resort island," weekly from June through September, to promote wellness that comes when women spend quality time together.
"SuperShe Island works to connect women from all over the world with different backgrounds to inspire each other," Roth said. According to her site, SuperShe Island is a "safe space where women can come together to reinvent themselves and their desires."
https://www.instagram.com/p/BgFCZjog4V0/?taken-by=supershesnaps
Obviously, there are critics who are taking advantage of the "if men did this society would freaking lost their shit," narrative (just stop). But Roth has that one covered. "You can focus on 'no men' or you can focus on 'for women' and it's really your choice," Roth says. "I say, 'for women'."
Before you call all your closest friends to book this heaven on earth vacation, there's a few things you should know. The cost for a week will run you anywhere from $4300-$7,500 and of the approximately 7,000 women that applied, only about 140 were selected by Roth herself.
That could feel more exclusive than inclusive to many, but Roth's vision is to have a safe space where women can really connect and be themselves in a close-knit environment.
Also, please be aware there is no alcohol or caffeine allowed on the island. You've been warned.
https://www.instagram.com/p/Big01YiHp20/?taken-by=supershesnaps
I mean, I get it. But also if someone opens an island that allows alcohol, has Totinos Party Pizzas on tap, and promotes laying your ass on a beach all day reading that book you bought a year ago and never quite got to, I'd be into that, too.
This article was originally published on