Our Family Owns A Small Business, And I'm Scared For Our Livelihood
by Caila Smith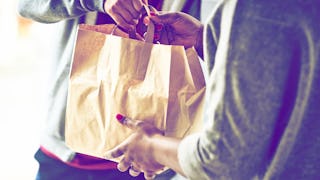 Scary Mommy and 10'000 Hours/Getty
Information about COVID-19 is rapidly changing, and Scary Mommy is committed to providing the most recent data in our coverage. With news being updated so frequently, some of the information in this story may have changed after publication. For this reason, we are encouraging readers to use online resources from local public health departments, the Centers for Disease Control, and the World Health Organization to remain as informed as possible.
My husband started washing dishes at his family's diner when he was five years old. For a few hours a week, he would stand with a stool under his feet, a scrubber in his hands, and his pockets would grow $5 every hour. Nick's Kitchen — their 100-year-old family restaurant, "home to the breaded pork tenderloin" — sits in our small town's downtown square with roughly 20+ other small businesses, where everything from pubs, candy stores, dance studios and even soup kitchens add a sense of community and whimsical character.
Throughout the holidays, you'll find our downtown dressed with ginormous candy canes, Christmas trees, and twinkly lights that spiral down antique street lamps, giving the place a look you'd dream of finding while sipping hot cocoa and strolling through the set of a Hallmark film.
To some, we are "too small-town." They can call it whatever they want, but for me, well… I call it home. And now more than ever, I am seriously concerned for my hometown.
Saturdays are usually the busiest day of the week for not only my husband's family's restaurants (there are three), but for all local businesses around town. Because of the coronavirus pandemic, though, my city looked like a ghost town outside of Walmart, Kroger, Dollar General, and Aldi, where parking lots filled with cars resemble those at a convention center.
Schools are closing down for weeks on end. People are scrounging for toilet paper, hand sanitizer, disinfectant wipes, baby wipes, diapers, pull-ups, and even formula — the bare necessities for families. We aren't all in a constant state of panic about becoming infected with the coronavirus, but because of the lack of resources we are seeing with items we normally take for granted, it is causing folks tremendous worry.
People who wouldn't normally hoard household supplies and groceries are now beginning to do so out of fear that they won't be able to find these things in the coming days ahead — all of this leading to a huge lump sum of money for larger companies. Meanwhile, small businesses are put on the back burner, left to wonder how they will get through this season with the loss of their typical customer flow.
We're being told to avoid mass gatherings, so people are staying inside to eat at home. Just recently, the governors of Ohio, Illinois, and Indiana announced that all restaurants and bars are to close with the exception being carryout and delivery orders. Spring break plans are being put on hold to prevent the spread of COVID-19, leading people to cancel boarding reservations at kennels where their animals were previously booked to stay. Money is being spent on our needs, not things like boutique clothing, antiques, or home renovations. Events celebrating the arts are being put off, and it's the artists who are left high, dry, and suffering.
In a time where all of us are struggling individually, we need to show up for each other and continue to support our small businesses as a community. Because though they may be small, local stores bring innovation and growth to our cities. They offer job opportunities and increase property value, including every homeowner's bottom-dollar price on their home — thus bringing in more property taxes for things like fire stations and police stations, not to mention, your own child's public school.
So in the midst of the latest closings, take a moment to ask yourself how you can support your local businesses.
It's advised that we avoid large crowds, but can I order takeout from a local diner? I'm not going on vacation anymore, but can I spare a portion of what I would have paid the vet had I boarded my Goldendoodle during spring break? Can I see if this small business will make accommodations for their customers during this time by delivering me any items? Can I buy a few gift certificates to use at a future date?
Sure, you might make an extra trip or spend a few more dollars in the process, but think of all you are doing by sacrificing that time and money, too. Because when you choose to shop local, you aren't just giving your money to some CEO who has more cash than they know what to do with. You are supporting a family… a family who is a part of your community. You, yourself, have a chance to create countless opportunities by offering support to your fellow community members.
Few big box stores are racing to sponsor your child's baseball team. Chain restaurants aren't handing out sack lunches for kids who need them while they spend these next few weeks home from school. National grocery stores aren't sending you home with "a little somethin' extra" for being such a loyal customer. But here's the real kicker: Your local businesses are doing these things.
Don't you see? When you choose to buy local, small business owners make it their mission to pour back into your city.
Local shops don't forget their customers in their time of need, so let's extend that same courtesy to them. In a time where the forethought is your own family, let's also remember that it takes a community.
This article was originally published on