Supreme Court Refuses To Hear Transgender Student Bathroom Case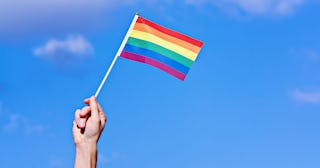 Kira-Yan/Getty
This is a big win for Gavin Grimm and other transgender students
A victory for transgender students! The Supreme Court has declined to take up the appeal of a case involving Gavin Grimm, who won previous cases in lower courts allowing students to use the school bathroom that matches their gender identity.
The court declined, without comment, to hear the case, brought by Grimm, who has been fighting the school board in Gloucester County, Virginia for years. Grimm, who is transgender, legally changed his name and began hormone therapy after his freshman year of high school. The teen was initially given permission to use the boys' bathroom. Then, the school board changed their policy, stating school restrooms had to be "limited to the corresponding biological genders."
"Being forced to use the nurse's room, a private bathroom, and the girl's room was humiliating for me, and having to go to out-of-the-way bathrooms severely interfered with my education," Grimm said in response to the victory. "Trans youth deserve to use the bathroom in peace without being humiliated and stigmatized by their own school boards and elected officials."
Lawyers from the American Civil Liberties Union who represent Grimm agreed, telling the court that the school's actions "stigmatized him as unfit to use the same restroom as his peers…This is an incredible victory for Gavin and for transgender students around the country," said Josh Block, a senior staff attorney with the group.
Grimm originally filed his suit in 2015, arguing that the school's policy violated Title IX and the Equal Protection Clause. At that time, the Obama Justice Department filed a "statement of interest," stating that their actions violated Title IX, which bans sex discrimination in school programs. Grimm won that case but the Trump administration withdrew the Obama-era guidance. This meant Grimm's victory was wiped away and the case had to be sent back down to the lower courts for reviews again. His case was reviewed by the Fourth Circuit again and they ruled (again) in his favor.
"For school officials, as for parents, the question how best to respond to a teenager who identifies with the opposite biological sex is often excruciatingly difficult," lawyers for the school district told the Supreme Court. They also said allowing transgender students to use bathrooms of the gender they identify puts other students at risk.
Grimm is celebrating this victory, saying in part on Twitter that, "Too many people played integral roles in our success and too many people who loved me so much. I have nothing more to say but thank you, thank you, thank you. Honored to have been part of this victory."