U.S. Surgeon General Warns About Coronavirus: 'This Week It's Going To Get Bad'
by Christina Marfice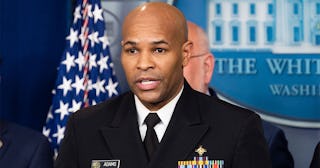 Barcroft Media/Getty
Surgeon General Dr. Jerome Adams' somber warning about the coming week should make everyone take coronavirus seriously
Numbers of coronavirus cases in the U.S. are now rising by the thousands each day. More than 500 Americans have died from the virus so far, and in a growing number of states, normal life has ground to a halt as governors and mayors issue "shelter in place" orders begging their citizens to stay home to help slow the virus's spread. And now, the U.S. Surgeon General, Dr. Jerome Adams, is warning us that this is just the very beginning.
In a somber address to the nation Monday morning, the Surgeon General warned that people aren't taking social distancing seriously enough in many places, and their insistence on going out and gathering in large groups is going to accelerate the spread of COVID-19.
"I want America to understand this week, it's going to get bad," he said. Adams notes that people are still going about their lives and not heeding the warnings to stay home. "This is how the spread is occurring. So we really, really need everyone to stay at home," he urged. "I think that there are a lot of people who are doing the right things, but I think that unfortunately we're finding out a lot of people think this can't happen to them."
"Right now, there are not enough people out there who are taking this seriously," he said.
In particular, the Surgeon General warned, there have been reports of young people ignoring guidelines and directives that they should stay home and maintain distance from other people when they go out. Spring Break trips have been continuing as planned, even as five Florida spring breakers tested positive for the coronavirus over the weekend after partying on crowded beaches. People have also been crowding California's beaches, and the National Mall to view the annual blossoming of the cherry blossoms.
"Everyone needs to act as if they have the virus right now," the Surgeon General warned. "So, test or no test, we need you to understand you could be spreading it to someone else. Or you could be getting it from someone else. Stay at home."
When asked about the growing national shortage of supplies like masks and ventilators, he repeated the same warning, saying that people should be concerned about a lack of medical supplies, but that should be even more motivation to do their part to stop the spread of the virus.
"The other important point is that we're not going to ventilator our way out of this problem. We're not going to treat our way out of this problem," he said. "The way you stop the spread of an infectious disease like this is with mitigation measures and preventing people from getting it in the first place."
Information about COVID-19 is rapidly changing, and Scary Mommy is committed to providing the most recent data in our coverage. With news being updated so frequently, some of the information in this story may have changed after publication. For this reason, we are encouraging readers to use online resources from local public health departments, the Centers for Disease Control, and the World Health Organization to remain as informed as possible.
This article was originally published on