12 Of The 26 Victims Of The Texas Shooting Were Children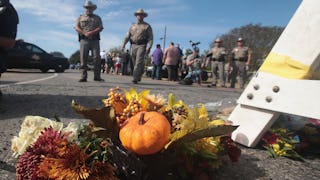 Image via Scott Olson/Getty Images
The youngest victim was just 18 months old
As the details unfold from our nation's most recent mass shooting, this time at a Texas church, we're in mourning all over again. And this time, almost half of the victims were children.
According to NBC News, of the 26 people killed yesterday at First Baptist Church in Sutherland Springs, Texas, at least 12 were children. Victims ranging in age from just 18 months to 77 years old were lost in what's being called the Texas Church Massacre, the deadliest shooting inside a house of worship in American history. The shooter, 26-year-old Devin Patrick Kelley, injured 20 people in addition to those he murdered before being shot himself. It's not yet clear if he died from gunshot wounds inflicted by a civilian who engaged him with a shotgun or if he took his own life.
Now, some of the victims' names and photos are being shared on Twitter — and it's heartbreaking.
The church's pastor Frank Pomeroy's own daughter, 14-year-old Annabelle, was among those killed. Her parents were out of town yesterday, so they weren't there during the shooting. Annabelle's mother, Sherri, says the fact that her young daughter died among her beloved church family is "one thing that gives me a sliver of encouragement."
"Our church was not comprised of members or parishioners. We were a very close family. We ate together, we laughed together, we cried together, and we worshiped together," said Sherri in a statement. "Now most of our church family is gone, our building is probably beyond repair … As senseless as this tragedy was, our sweet Belle would not have been able to deal with losing so much family yesterday."
According to the Statesmen, Joann Ward was mom to four children, two of whom died with her yesterday. Brooke, age give, and Emily, age seven. Her husband and two other surviving children were both at the church yesterday too. Daughter Rhianna was saved when a bullet ricocheted off her glasses. Son Ryland was injured and is now stable after a day of surgeries.
https://twitter.com/jetpack/status/927518119014338560
According to a GoFundMe page set up by a family friend, Haley Krueger was only 16 when she died and had dreams of one day becoming a NICU nurse.
The story of the Holcombe family is beyond heartbreaking. Eight members of the extended family and an unborn child are among the victims.
Crystal Holcombe was pregnant at the time of the shooting. Three of her five children were also killed — Emily, Greg, and Megan. Her husband John and the couple's two other kids survived.
Bryan Holcombe was guest preacher for yesterday's services and was killed along with his wife, Karla. Crystal Holcombe was their daughter-in-law. Their son, Marc Daniel Holcombe, was also killed along with his 18-month-old daughter Noah.
Joe and Claryce Holcombe are Bryan's parents and all told, the couple lost a son, grandchildren, great-grandchildren and a future great grandchild. "We're having a hard time," Joe tells NBC News. But the couple's strong faith is helping them through their unimaginable grief.
"He's gone home," he says. "We'll be together again for a long time."