10 Sweary Gifts For Your Friends Who Don't Give A F*ck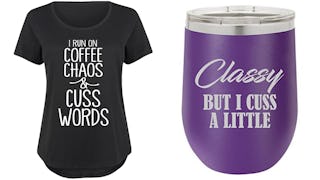 Images via Walmart
For the friend who won't make it through presents without getting a little sweary, here are some perfect gifts
Everyone has a sweary friend. You know, the friend who can't make it through a playdate without dropping some vocab that doesn't belong anywhere near kids' ears. Some people talk like sailors, and you gotta love 'em for it.
But what to get that sweary friend for the holidays? Fear not, we have a list of gifts that are perfect for your friends who cuss their way through coffee, brunch, shopping — pretty much everything.
Did you know sweary coloring books are a huge thing? Coloring can be calming for a lot of people, and so can cussing. So why not combine them? This particular adult coloring book (emphasis on the adult) is full of Christmas scenes, making it a perfect holiday gift.
We all can use a little motivation throughout the day, especially if that motivation is telling us to shake off anything our haters say. For your sweary friend's motivational needs, a typography art print with a daily reminder we can all use.
For the sweary friend who sometimes finds herself having to apologize for her potty mouth, this travel mug is the perfect gift. Plus, it's shaped like a stemless wine glass, because wine and doing some swears so often go hand-in-hand.
4. Or, for at-home coffee, this mug
Why does it seem like all sweary people love coffee? For those that take theirs at home rather than on the go, there are plenty of options for gift mugs a bad-word-lover will appreciate, like this one, which explains why this particular coffee drinker is so career driven.
For the cat lover with a dirty mouth, this mug tells all the haters exactly what goes down over morning coffee in every cat owner's house.
In "Shit Happens," a party game for adults who need a little perspective, you have to rank events, like a third-degree sunburn or seeing your dad naked, by their shittiness. Goes great with cocktails and lots of swear words.
We all need a reminder once in a while that it's time to get to work. Your sweary friends can have it in pillow case form.
Or, for others, maybe a reminder that it's OK to get nothing done is a better gift. In that case, this pillow case that reminds us all it's OK to shirk responsibility sometimes may be the perfect gift.
Let your sweary friends just embrace that side of themselves. But also help them learn how to make their swears really count with this book on how to "swear effectively."
Look, sometimes it's best to just let people know what to expect from you. Your sweariest friends can lay it all out on the line with this shirt, which tells people not to be surprised by their caffeine intake or their colorful language.
Happy f*cking holidays, y'all.
We are a participant in the Walmart.com Affiliate Program and may earn fees by linking to Walmart.com and affiliated sites.
This article was originally published on