The AAP Has Updated Its Water Safety And Swim Lesson Recommendations
by Sa'iyda Shabazz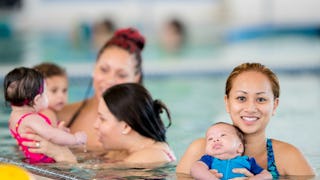 FATCAMERA / GETTY IMAGES
As we get closer to summer and warmer weather, more of us will be spending time with our kids in swimming pools or at the beach. Swim lessons and water readiness are critically important safety issues, not just in the summer, but all year round. Many parents don't realize just how dangerous water can be for young kids. And honestly, their readiness for swim lessons is probably a lot earlier than most of us would ever expect.
The American Academy of Pediatrics has released a new policy statement, updating their recommendations to prevent young children drowning. And that includes swim lessons for even the youngest toddlers.
"Research has found that swim lessons are beneficial for children starting around age 1, and may lower drowning rates," says Linda Quan, MD, FAAP, one of the co-authors of the policy statement.
It may seem weird to have your one-year-old in swim lessons, but experts say it's important for kids to feel comfortable in the water at a young age.
"It's all about building confidence by teaching kids to feel comfortable in the water," Emily Leaman, co-founder and COO of Fitness Alive Philly, which starts classes for babies as young as five months, told Good Housekeeping. "In our experience, kids learn the actual mechanics of swimming more quickly if they are confident first. A water-confident child is also less likely to panic in an emergency situation."
While you may initially be hesitant, fearing that your little one is just too young, think about this. If you give your little one a supervised bath and they love splashing around, chances are, swim lessons will not be traumatizing. Sure, there's always a chance of a potty accident or meltdown in the pool, but the swim instructors are ready for that. They've seen it all before. You can look at the swimming pool and swim lessons like a bigger version of the bathtub, but this time, you're intentionally getting wet.
"Learning to swim is a great family activity," Dr. Quan adds in the policy statement. "Families can talk with their pediatrician about whether their child is developmentally ready for swim lessons, and then look for a program that has experienced, well-trained instructors. Ideally, programs should teach 'water competency' too – the ability to get out of the water if your child ends up in the water unexpectedly."
In just about any swim class for young swimmers, a parent is required to be present. A swimming pool can be a little scary of some kids. Having an adult they trust behind them will likely give the confidence they need to try. Being present with your child during these lessons helps them to feel more secure, and also makes you a more equipped parent, because you are learning these skills alongside of them. You're able to help enforce the skills and safety rules outside of the allotted lesson time.
In a beginners swim lesson, much of what they're learning focuses on water readiness. They will learn how to breathe underwater, open their eyes, float, and generally feel comfortable and capable while in the water. As they progress in their swim lessons, they will learn how to kick, paddle, and the like. As they get older, there is more space between the parent and the child during the lesson.
According to the AAP's update, drowning is the third leading cause of death in children between the ages of 5 and 19. In 2017, 1,000 kids died from drowning, while another 8,600 went to the emergency room because of a drowning event. The numbers are down overall, which is the news we all want to hear. But swim lessons and swimming readiness classes will continue to ensure that number doesn't go back up.
Despite being the third leading cause of death for kids between 5 and 19, drowning is the leading cause of death for kids between 1 and 4 years old, according to the AAP. There are a few factors, but age, ethnicity, and gender all play a part. Overall, boys are more likely to drown after the age of one, while black kids have the highest rates of death by drowning across the board. These are statistics that are hard to digest, but necessary to know.
Swim lessons and water readiness classes are clearly beneficial for toddlers for a bevy of reasons. While the AAP claims most kids between the age of 12 and 36 months (1 to 3 years old) are more likely to drown in the bath or a bucket, preschool aged kids are more likely to drown in a pool. Swim lessons for little ones could save their lives, even if they were only in the bathtub or a kiddie pool.
"Many of these deaths occur when children are not expected to be swimming or when they have unanticipated access to water. Toddlers are naturally curious; that's why we must implement other strategies, such as pool fencing and door locks," says Sarah Denny, MD, FAAP, who is the lead author of the policy statement.
As much as we'd like to believe that we're diligently watching our kids around water, accidents happen. In the split second it could take for you to reach down and scratch your leg, your little one could fall into the pool. And even if it's shallow water, it's still incredibly dangerous.
No matter how many swim lessons they have, or how capable and confident of a swimmer they become, it is not a guarantee that drowning won't happen. Drowning is always a risk. Swim lessons are just the first line of defense, and there are many safety precautions adults can take to minimize drowning risks. For instance, if you live in a home with a swimming pool, a gate (with a lock) that goes completely around the pool is strongly recommended.
Life jackets (properly fitting) are also incredibly important, no matter how strong of a swimmer they may be. Emptying anything carrying water, like buckets or backyard kid pools immediately after use is also a good idea. Of course, the most vital thing is never leaving your kids unsupervised when they're in water, even in the bathtub.
Swim lessons are an important part of the steps we need to take to make sure our little ones are as safe as possible. You can look into places like your local YMCA, or if your city has a public pool, chances are they offer inexpensive swim lessons for a variety of ages. Swim lessons literally save lives, and if you're going to have your kids around pools and beaches, they should be as prepared as possible.
This article was originally published on