Answers To Our Most Burning Summer Question: What About The Pool?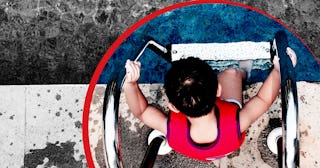 Scary Mommy and Belanegara "Abe" Abimanyu/Reshot
We are a few months into sheltering in place and people are weary. They are about to be hot and cranky, too, as summer starts for most of us. Warm weather states have already seen folks flocking to beaches and parks despite warnings to avoid crowds, but as more of the country heats up there will be increased desire to get out of the house and visit community pools, water parks, lakeside beaches, and pools and hot tubs managed by HOAs and apartment complexes. But what will that look like? Will it be safe to open public aquatic spaces?
RELATED: 9 Best Infant & Toddler Pool Floats With Built-In Sun Canopy For Chillin' By The Water
Some states have given the green light to move forward with summer camps, but will kids have access to pools at the parks and private facilities? What about swimming lessons? The answers are varied in each state and county and are still to be determined in many places, but the CDC does provide guidelines for public swimming pools and water parks.
There has not been any evidence that COVID-19 is transferred via water, and the chlorine and bromine used in properly maintained and treated public pools, hot tubs, and play areas should kill the virus. While there are still the risks of drowning and diving injuries, the water itself is safe from the coronavirus.
People and their ability to practice proper hygiene and social distancing rules are what will make swimming unsafe. We know COVID-19 is transferred via respiratory droplets, so maintaining six feet between people who don't live with you, wearing a mask, and not touching public equipment (or your face, mouth, nose, and eyes) are standard rules for venturing out of the house. I don't know about you, but I have yet to see a kid do all of these things well while out in public. You know who loves a good swimming pool? Kids.
Dr. Emily Landon is University of Chicago's chief epidemiologist. She tells the Chicago Tribune, "If you take kids to a pool, they play with the other kids at the pool. It's the same problem you have with playgrounds. But, playgrounds are a little easier because you could put a mask on the kid." The CDC maintains that playgrounds should still be closed because of drawing crowds and possible contact with contaminated equipment. But the point is that even if kids were allowed to play on a jungle gym, a mask offers some protection. Kids can't swim with masks. Nor do kids know how to not spit at each other and talk at super-close range while in the pool. What the hell, kids?
It is going to be nearly impossible to maintain social distancing at a pool, and it is going to be very expensive trying to enforce it. Indiana Gov. Eric Holcomb is allowing community pools in the state to open on May 24th, right before Memorial Day. Pools are only allowed to be used at 50% capacity. Water and amusement parks will be allowed to open June 14th also at a 50% capacity limit. Many towns are making the difficult decision to keep their community swimming pools closed this year, and not only because of the safety: In some cases, tax money that is used to fund the pool may be delayed because of the pandemic.
Add reduced revenue because of reduced use to the increased cost to keep up with new guidelines, and you have a very negative result. For those pools that do open, the CDC recommends frequent cleaning and sanitizing practices for high traffic surfaces like handrails, slides, picnic tables, lounge chairs, bathroom surfaces, and showers. The CDC also suggests modifying layouts and creating physical barriers to make sure staff and patrons keep themselves six feet from each other. Rotating times for use of communal spaces like changing areas and bathrooms would need to be implemented too. All of this takes time and staff. A lifeguard on duty can't be expected to keep an eye on people in the water and on the proper use of face masks—which are recommended once swimmers are out of the pool. Extra staff members would need to take on the role of monitoring guidelines and becoming point people for coronavirus-related concerns and questions.
Private swimming lessons could still be an option and bring in much-needed revenue. Bob Ryan, owner of the Goldfish Swim School franchise in Wicker Park and Roscoe Village in Chicago, is optimistic. Ryan tells the Chicago Tribune, "The learn-to-swim industry is obviously different than water parks. And we can really control the amount of people in the pool, the amount of people walking through, and even the flow through the facilities." Ryan says that they are making adjustments to be sure student and instructor are not putting each other at risk, but Illinois has yet to announce if swim schools will be allowed to reopen.
The season is early, but results are mixed. Even with new safety guidelines in place, many pools won't be able to afford to open their gates for swimmers this summer. This makes me nervous that folks will become reckless in their desire to cool off and have what they consider a well-deserved fun summer. Beaches and swimming holes will become overcrowded and folks with pools will suddenly have 15 new friends clamoring to take a dip. Crowds and gatherings could become a problem and there is a good chance we will start to see a spike in COVID-19 cases again.
We're going to have to continue to make sacrifices and get creative, folks. I don't know what our local pool is going to do yet, but I know this summer will look much different than in years past. I purchased giant water soakers for my kids, have mini pools, and the sprinkler ready to go. Thankfully, we live in a place with access to rivers, streams, and lakes. We will hit the trails and find quiet, un-crowded spots to swim and splash around.
We'll stock up on ice cream too, because if we can't swim, we are going to look to other resources to stay cool and happy.
This article was originally published on