These Boudoir Photos Win For 'Best Use Of A T-Rex Costume'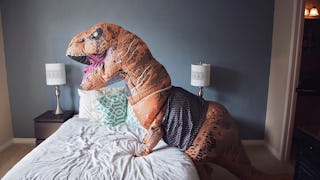 Image via Josh & Kissy Photography
Sexy Rexy
For an animal that's supposedly extinct, T-Rexs are crashing a ton of weddings lately. They're popping up at engagement shoots, and even surprising grooms on the wedding day. But Nicole Stein of Calgary, Canada wins for Best Use Of A T-Rex Costume hands down with these fantastic boudoir photos.
Stein tells Scary Mommy she wanted to do something funny for a boudoir shoot, and her Facebook moms group friends came to the rescue. "A friend in this baby group jokingly said she'd done a T-Rex boudoir shoot, and with my upcoming wedding, I really wanted to do the same," she explains.
Friend and fellow mom group member Kissy Spicer of Josh & Kissy Photography happily stepped up to the challenge. She even supplied the costume. "Nicole and I met online through our cross-Canada mommy group four years ago," she says. "I've been taking pictures of her son and family since he was a newborn. She wanted to do something special for her husband for their wedding day. We were talking about doing boudoir pictures because she's hilarious and my husband had gotten an inflatable dinosaur costume for Halloween."
This is what the best mom groups are all about — supporting each other through tough parenting moments and being all in when your friend wants to take sexy pics dressed as a dinosaur.
Spicer says the shoot was just as much fun as the photos themselves. "I've never shot anything quite like this before," she says. "It was one of the funniest things I've ever shot, mostly because she couldn't move around. There was lots of flailing and laughing. She was pretty much doing the worm inside the suit trying to move around on the bed. I had to stop shooting at points because I was crying from laughter and mascara was getting in my eyes."
While boudoir photos are usually sexy, Stein says trying to pull them off in a T-Rex costume is anything but. "It was so hot in that suit!" she recalls. "And so awkward to move."
They took the photos while Stein's fiance was away at his bachelor party, but her three-year-old son nearly busted her. "My 3-year-old Parker thought it was awesome to see me in it. He nearly blew my cover when Chris got home by telling him 'Mommy's a dinosaur,' she remembers. "Luckily we have a dinosaur-themed bathroom. So I just said we were playing make believe." Nice save.
Stein and her husband Chris got married July 1st, making them true newlyweds. As excited as she was to surprise her husband with the photos, the big reveal didn't go quite as planned. Stein had a photo book made and gave it to her husband before the wedding, but when he saw some real boudoir photos in the front of the book, he closed it because he didn't want his nearby groomsmen to see them.
Ultimately, she got the reaction she was hoping for. "When he did read it finally, he laughed for about half an hour," she says. "He said he should have kept reading when he saw the picture of me picking my teeth among the real pictures."
Not everyone in the family though Stein's idea was a funny one. "My one-year-old son Beckett was nine months old at the time of the shoot," she says, "and was not too impressed by the costume."
Yes, a dino-inspired boudoir shoot is ultra extra, but we're here for it. There's no trying to make pouty faces for the camera, no wondering where to put the photos so your kids don't find them years later. And most importantly — your husband will never forget that he married a sexy beast.
This article was originally published on