Make Your Own T-Shirt Quilt: How To Turn Your Beloved Shirts Into Something New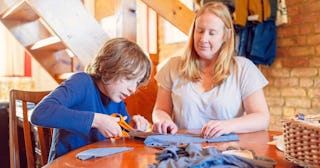 Christopher Hopefitch/Getty Images
Everyone loves a novelty T-shirt. Many of us make sure to pick up a T-shirt while on vacation as a keepsake to reflect on or wear later. But, eventually, those souvenir T-shirts end up cluttering up your closet. They're hard to throw out since they're nostalgic, but you can't exactly keep them forever. And that's why a DIY T-shirt quilt is the best idea if you're looking for something fun to do that's also practical.
If you don't consider yourself crafty (and so the idea of this is giving you hives), don't worry — making a T-shirt quilt is actually a lot simpler than you may think. It'll be an easy DIY activity to can keep adding to with time! Plus, we're here to walk you through the steps.
DIY T-Shirt Quilt Supplies
So, what do you need for T-shirt quilt DIY prep? Gather the following:
Rotary cutting tools
A sewing machine
Measuring tape
Pins
Iron and ironing board
Scissors
T-shirts (obvs)
Interfacing, if you choose to use it
Matching thread
Batting and batting fabric
Coordinating quilt binding
To make a good quilt, you'll need to collect your T-shirts and figure out which ones will make it into the T-shirt quilt. Wondering how many of your old T-shirts you must sacrifice? As luck would have it, MemoryStitch did the math for us. Lap-sized small quilts require about 16 shirts. A full-sized quilt calls for 30. For a king-sized quilt, you're looking at 64 shirts total. Shirts should also be cleaned, dried, and ironed before cutting begins. When cutting, use your scissors to cut out the front panel of each T-shirt (or whatever part of the T-shirt has the central design). Cut off the sleeves and connecting seams, but leave yourself enough fabric so that you can trim later if you need to.
T-Shirt Quilt Interfacing
You'll also have to figure out your T-shirt quilt interfacing. What's that? Well, interfacing is a fabric added to another fabric's backside or between layers to add support, structure, and weight/bulk. Now, T-shirt quilts don't necessarily need interfacing, but you may choose to use it. Many people opt to iron it on. If you go this route, you'd need to add an iron and ironing board to your T-shirt quilt DIY supply list. In all honesty, you'll likely see more T-shirt quilt interfacing used on older quilts.
That said, many people still swear by it. And for a beginner making a DIY T-shirt quilt, it may be good to add. "Without interfacing, it is nearly impossible to keep quilt blocks square and straight," writes a sewer named trowel gal on Instructables. "The amount is tough to judge and depends on the desired finished quilt dimensions, so get the widest width you can. I usually start with 10 yards."
Secrets to Sewing T-Shirt Quilts
If you're new to sewing, you may wonder if there are any special secrets to sewing a T-shirt quilt. Here are a few hot tips before we get started:
One of the most important things to remember while cutting your squares is to keep the design centered and the cuts even. Many sewing experts choose to use a rotary cutter to best ensure lining everything up.
Bigger is often better. If you're trying to figure out how big you want the squares, envision how big of a quilt you're looking to create. Remember that you can always trim squares to be smaller, but you can't make a small square bigger.
You also want to make sure that all T-shirt designs are displayed. So if you have some T-shirts with a smaller design, the squares should also be the same size as a T-shirt with a larger design. When looking at your T-shirt inventory, you have to remember that the big project at hand is the quilt. And, by offering up a little space on a smaller design tee, you're making your quilt more level.
Measuring is one of the trickiest yet most crucial parts of making a T-shirt quilt. You'll also want to make sure that you count for seams. When the pieces get sewn together, they'll get shorter.
Arranging Your Squares Before Sewing
Sewing is the easy part. Arranging, on the other hand, may turn into a puzzle you never expected. So, once you cut your shirts, you'll want to make sure you properly arrange them. The quilt shouldn't look too busy or too loud if you can avoid it. You can also make sure that your favorite squares get the best placement. Only you know the best way to space them out, as it's a personal project. Typically, it's just a matter of trial-and-error shuffling the T-shirts squares around until you happen upon an arrangement that looks good to you.
Speaking of space, you'll need a lot of it for your T-shirt quilt DIY — especially if the quilt in question will be large. Arranging squares on an empty floor or large table is the best way to see how your project will look.
How to Sew a T-Shirt Quilt
Based on the arrangement you choose, you'll probably need to trim your T-shirt panels. Then, you can follow these steps:
If you've chosen to use interfacing, follow the instructions that came with it to fuse the interfacing to the backside of your T-shirt panels.
Once the interfacing has bonded (make sure!), trim the interfaced panels to fit your design.
Pin together all of your panels in the arrangement you've chosen.
When sewing, sew your shirt squares in rows to make your project more manageable.
Then, join your rows into a quilt.
If you've chosen to use batting/batting fabric, now's the time to cut it to the size of your quilt. Place the batting between the quilt top and the batting fabric, pin the three together, then finish up by sewing them all together.
Add trim, if desired.
Before you get started, you want to make sure you have a solid chunk of free time. Creating a decent-sized T-shirt quilt will probably take you around three hours (or more if you have quote-unquote technical difficulties). But once finished, you'll have a brand new DIY'ed T-shirt quilt to cozy up with on the couch!
T-shirt Quilt Ideas
Before you begin your T-shirt quilt, it's important to have a plan or idea in mind. Thankfully, we've found a few you'll appreciate or give you inspiration for your own design.
When making your T-shirt quilt, try to keep all the logos intact. It'll give your quilt a creative and varied look. This can be a good idea for college T-shirts. You can make an entire blanket dedicated to your family's academic achievements!
Keep the images intact. When we're trying to remember what a shirt looks like, we tend to think of the image on it. For your quilt, fill it with cutouts of all your favorite old T-shirts. Not only will it look like a work of art, but you'll have a warm piece of nostalgia to wrap yourself in.
Go full-blown Picasso on your T-shirt quilt and keep the theme abstract. There are no rules, so keep the design random. Don't be afraid to slash through a logo or cut images into shapes and sew them onto a square piece of T-shirt. Stitch images together like they're one picture and grab all the random tees you can find. A mixed-up combination will make your blanket truly unique.
Accio a Harry Potter-inspired quilt! If you have a Potterhead in your house, there's no doubt they have a healthy collection of Harry Potter T-shirts. Hold onto them as your little witch or wizard outgrows them, and you'll be able to conjure up a truly magical quilt before you know it.
This is a chance to literally wrap yourself in memories. If you're someone who is always on the go, now is the time to put all your travel souvenirs in one place. Gather each shirt you bought during your visits and vacations and put your collection of touristy T-shirts to good use. It's a great way to place all your memories in one place!
This article was originally published on