Taco Bell's New Wedding Collection Is For Next-Level Taco Lovers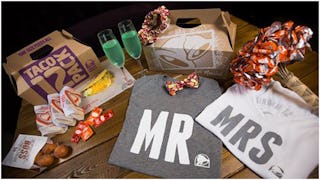 Image via Taco Bell
Taco Bell is selling wedding accessories, because why not?
Taco Bell has got you covered. It's there at 2 in the morning when you're feeling emotional and hungry. It's there for all those nights you've been drunk and needed tacos ASAP. And now it's there when you need accessories for your upcoming nuptials.
Yes, Taco Bell has a wedding accessories line. And yes, it's the perfect amount of cute and ridiculous.
First up, let's talk clothing. The groom can wear the traditional suit and tie if he wants (yawn). Or, he can go a whole lot more casual with a grey t-shirt that says "Mr." on the front and "Just Married" on the back. There's also the Taco Bell logo on both sides, because natch.
The wedding dress search is hard, exhausting, and very, very expensive. If you want a $20 alternative, snag this Taco Bell "Mrs." tank top. Your friends and family will probably have some ~thoughts~ but also it's your day damnit, and you want to be comfy.
While we're on the topic of outfits, I'd like to turn your attention to this bow tie with hot sauce packet designs. It's bright, it's cute, it's the perfect amount of tacky.
Your partner can't exactly wear a hot sauce bow tie alone. You're probably gonna want to wear a matching garter to even the playing field.
These items are also totally perfect for that point of the wedding reception when everyone's had too much champagne to care and everyone just wants to be comfortable.
And then — the pièce de résistance — wedding glasses. Elegant, and with the Taco Bell logo on them no less.
If you're currently feeling very, very into the idea of a Taco Bell-themed wedding, there's more. You can actually get married at the fast food restaurant. I am not even kidding.
"Located on the second floor of our flagship Las Vegas Taco Bell Cantina restaurant, it provides an excellent view of the dining area below and features a beautiful wedding archway that's the perfect backdrop for your big moment," Taco Bell's official wedding website explains.
The package includes all the swag featured above, a half-hour ceremony with an ordained officiant, a reception area inside Taco Bell, and a bouquet MADE OUT OF HOT SAUCE PACKETS.
Admittedly, a fast food restaurant might be a bold choice for a wedding venue. But also as soon as everyone is there, eating a whole bunch of tacos, I promise you'll hear ZERO complaints.