Tamagotchis Are Back So We Can Prove Once And For All We're Better Parents Now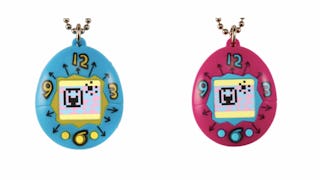 Image via Bandai Namco/Tamagotchi Friends
Our favorite '90s virtual pets are back and better than ever
Be still, our beating Millenial Mom hearts: Tamagotchi virtual pets are officially back. That's right, not only are they A Thing again, they're actually being mass produced and sold right here in the U.S. as of next month. Now we can share with our own children the journey the excitement of taking care of something for a couple of days and then letting it die an electronic death.
Remember begging for one of these chirpy, incessantly needy things for Christmas? Or a decent report card? Or because Ashley-Jessica-Cody down the street had one, so you had have one too? Well, just like back then, we have to feed them when they're hungry, get them to sleep, and clean up their poop. Why was so much fun to do those things as a kid? Fourth graders know nothing about being good parents.
https://giphy.com/gifs/tylermenzel-90s-commercial-tamagotchi-4LTGEdPueINFzycY1Ixq
Ah, memories. Now thanks to Japanese company Bandai Namco, we get to re-live those memories all over again through Tamagotchi Friends. We can finally prove to ourselves we're better parents now than we were as kids. Or something.
The new version of our beloved (and totally neglected, let's be honest) Tamagotchis will be available November 5 in six different colored shells — aka just in time for the holidays.
Psssh, and not for our kids either. They have iPads and Kindles and no time for '90s technology. No, this is a gift for us. The OGs of owning electronic toys.
"For many Generation X kids, the Tamagotchi device can be considered America's first and favorite digital pet," says Tara Badie, marketing director for Bandai America in a press release on the company's website. "The enduring power of Tamagotchi is its clear expression that nurturing and love never goes out of style. It's such an honor to bring back one of the most beloved toys in a way that captures the magic and joy of a generation while embracing the sensibilities of new generations."
That's a really articulate way of saying, "We know moms and dads are going to love playing with these again as soon as their kids go to bed." Because we can say we're buying these for our children all we want, but let's be honest. These demanding little pets are meant for US.
After the news was announced, Twitter Millenials shared their feelings:
https://twitter.com/jetpack/status/917825431713275904
https://twitter.com/jetpack/status/917857784011440129
https://twitter.com/jetpack/status/917837547874717696
Doesn't this new re-release just make you wanna curl up in your Lisa Frank pajamas and play with our electronic pets to the point of frustration all over again? Good times.
This article was originally published on